Formex Swiss Made Watches unveil a collaboration piece created for the members of the Atlanta Watch Society. Based on the brand's best-selling Essence 39 mm Automatic Chronometer and limited to just 50 pieces, this edition features a dial made from a natural stone called Eisenkiesel. Eisenkiesel translates from German to "Iron Pebble", referencing the numerous iron compounds found in the mineral and that form the recognizable vein pattern. Since the textures are organic, each single dial is a completely unique piece. The watch comes with the Essence's tested and proven features, including the brand's patented Case Suspension and Fine Adjustment Systems that noticeably enhance fit and comfort on the wrist. All 50 pieces have already been allocated and will be dispatched to club members in the coming days.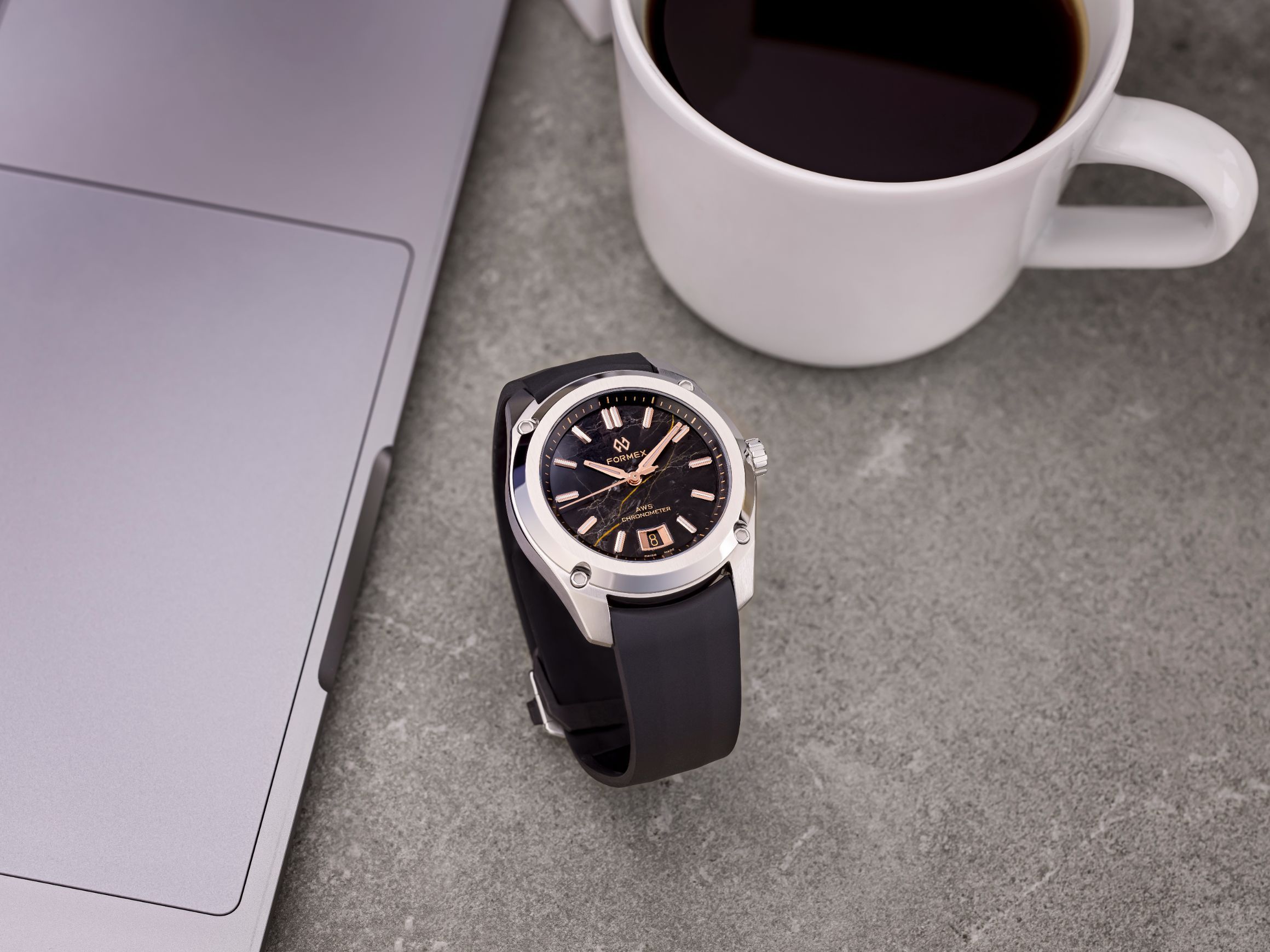 The Iron Pebble
Eisenkiesel is a quartz, and the stone used by Formex appears black with chocolatey brown iron inclusions. The production of this particular stone dial has proven extremely challenging, as the dial basis have to be cut in slices of 0.4 mm, making it incredibly fragile and brittle. Formex could rely on the brand's own dial manufacture, located in the Swiss Jura mountains. The result is a fascinating dial, each with its unique pattern of interveined iron lightning. Printed on the dial is the watch club's abbreviation "AWS", with their full logo laser engraved on the open sapphire case back. Just like the other variations of the Essence lineup, the new dial is explicitly unisex. Applied indices in rose gold color, deep-filled with Super-LumiNova® BGW9 and mirror-polished bevels provided legibility day and night.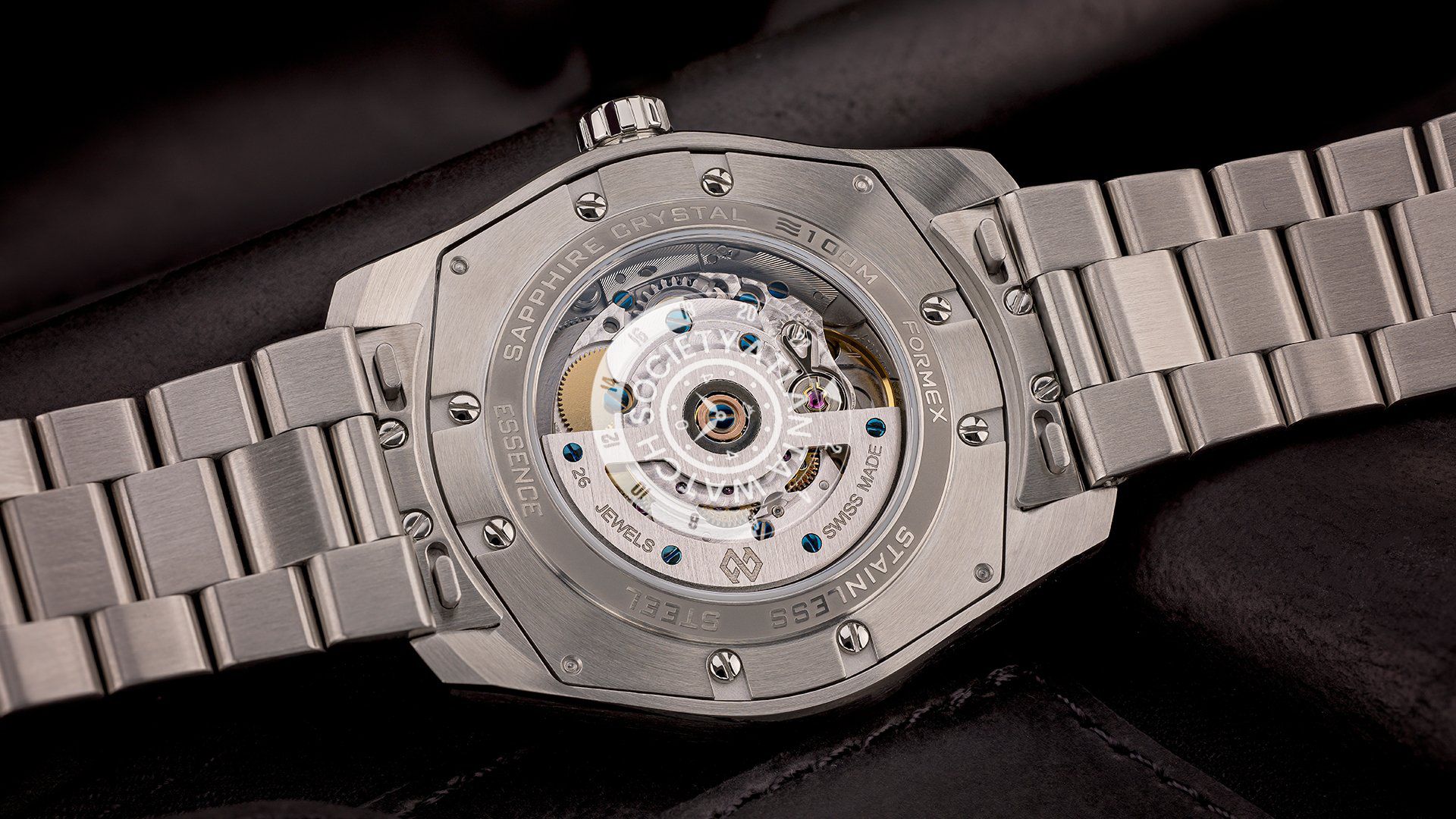 A certified Automatic Chronometer
Driving the hands is a Swiss Made Sellita SW200-1 self-winding movement with an extended power reserve of 41 hours. We've chosen its highest quality grade "Chronometer" because it comes with premium components such as a Glucydur balance wheel which is exceptionally hard and stable, very resistant to deformation, non-magnetic, and non-corrosive. The movement is fully decorated, has thermally blued screws and is wound by Formex's custom-built skeletonized rotor. Each one of these movements is certified by the COSC (the official Swiss Chronometer Testing Institute) and undergoes the meticulous 15-day rate test to ensure extraordinary levels of mechanical accuracy and precision.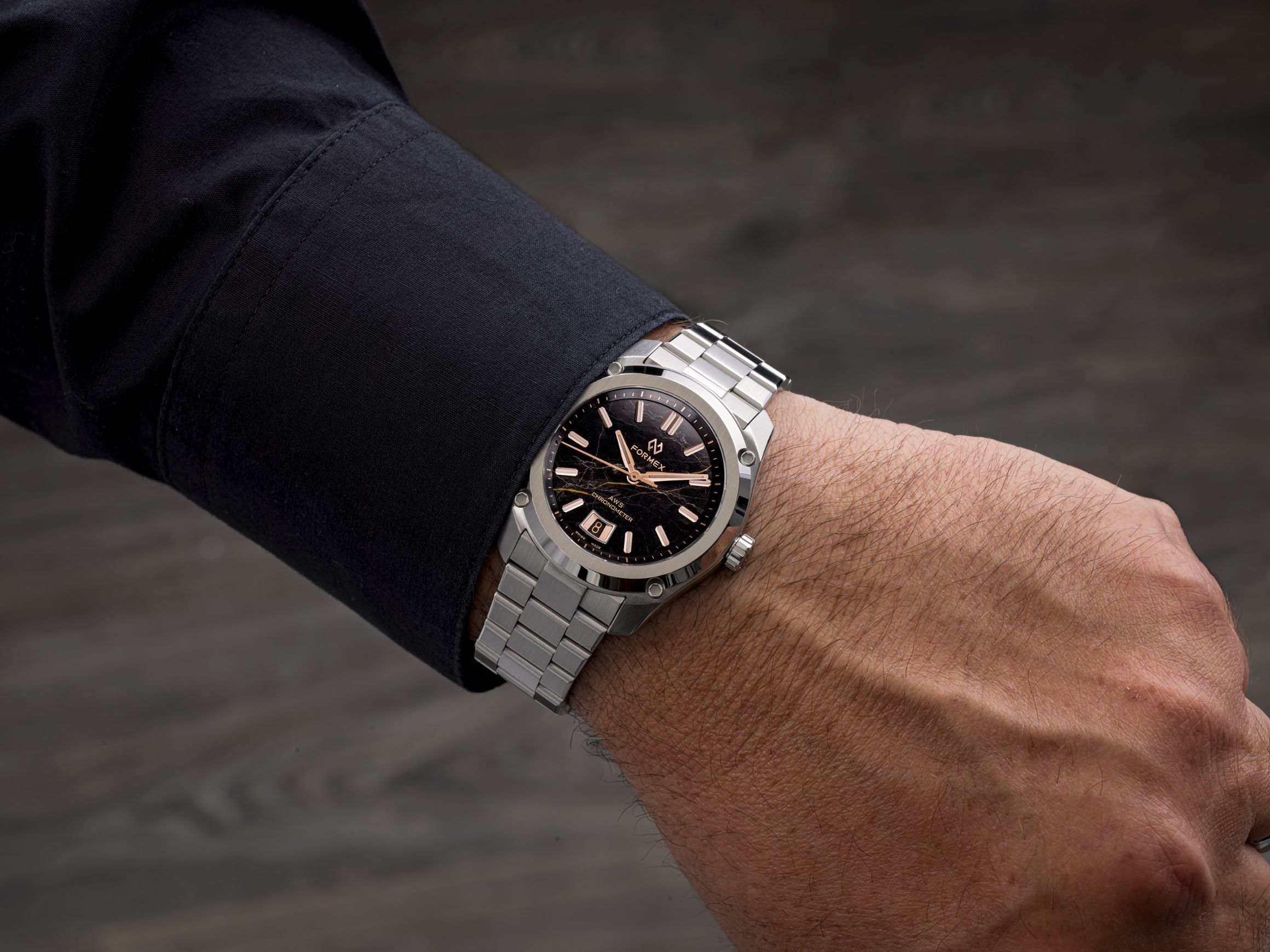 Built to wear everyday
Besides contributing to visual appeal, the details on the Essence 39 mm Eisenkiesel also serve a purpose. For a timepiece to be a watch for all occasions, it needs to feel exceptionally comfortable on the wrist. Originally designed with high-performance bikes and racing cars in mind, the brand's patented Case Suspension System noticeably increases wearing comfort as the watch case adapts to the wearer wrist movements. For even more comfort, Formex added their patented Carbon Fiber Composite Folding
Clasp with its fine-adjustment system, allowing on the go strap adjustment for a perfect fit in all conditions and temperatures. The leather and rubber straps can be changed without the use of any tools and the extremely comfortable and articulated stainless-steel bracelet can be mounted on the watch in seconds. The bracelet features screwed links, a new 1.5x link and a unique micro-extension system to match the comfort of the leather and rubber straps.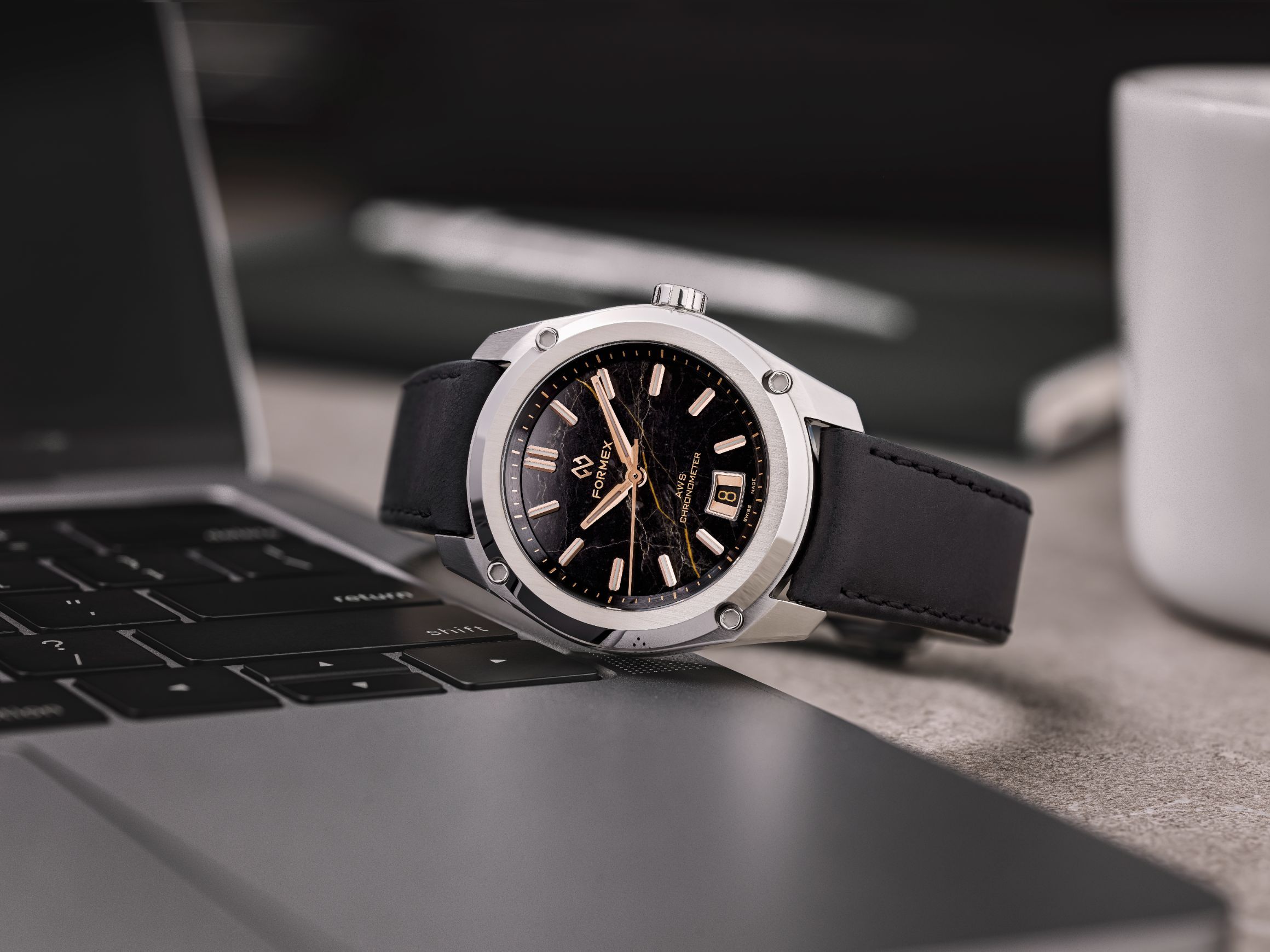 Giancarlo Rosselli @gentilogio, founding member of the Atlanta Watch Society, said of the launch, …
"When we first embarked on this idea to create a chapter watch for our members, we wanted to find a brand that embodied our creative spirit as a group and there was no brand better than our dear friends at Formex. This is an extremely important milestone in our young group's history, celebrating our 2-year anniversary and giving our members something special that they can have with them for generations to come. We are building something special in Atlanta, come and join us! Special thank you to Markus and Raphael for seeing our vision so clearly and delivering such a remarkable timepiece for our members"
Dib @watcheswithmukherjee, creative director of the Atlanta Watch Society, said of the launch, …
"I first met Raphael and Markus at the Windup fair at NYC in 2022 and based on our brief conversations, I thought Formex would be the best brand to do our first chapter with. I already had a few designs in mind and when Giancarlo made me aware that Formex was ready to collaborate with us for our first milestone timepiece, the rest as they say is history! The creation of the special dial has been challenging to say the least but the Formex team has delivered and gone above and beyond to make this timepiece exceptional for the Atlanta Watch Society.."
Raphael Granito, CEO of Formex Watch SA, said of the launch, …
"When talking about our first collab piece with our friends Dib and Giancarlo from the Atlanta Watch Society, they came up with the idea of creating a stone dial made of ferruginous quartz, also known as Eisenkiesel. We liked the idea, as the beautiful color of the dial and the pattern created by veins ranging from white to yellow, orange and red in color are very unique and create a little work of art by mother nature for your wrist. The stone was challenging to work with, since our Essence is a very slim watch that doesn't allow for extremely thick dials. We had to strike a delicate balance between form and function in this unique dial and we're very pleased with how it turned out."
All 50 units have already been allocated and will be dispatched to club members in the coming days. Formex is planning to launch a limited batch of non-AWS branded pieces in 2024. Prices start at $1,750.00 on a leather or rubber strap, and $1,860.00 on the solid-link stainless steel bracelet. Contact Formex directly at info@formexwatch.com to join the waitlist.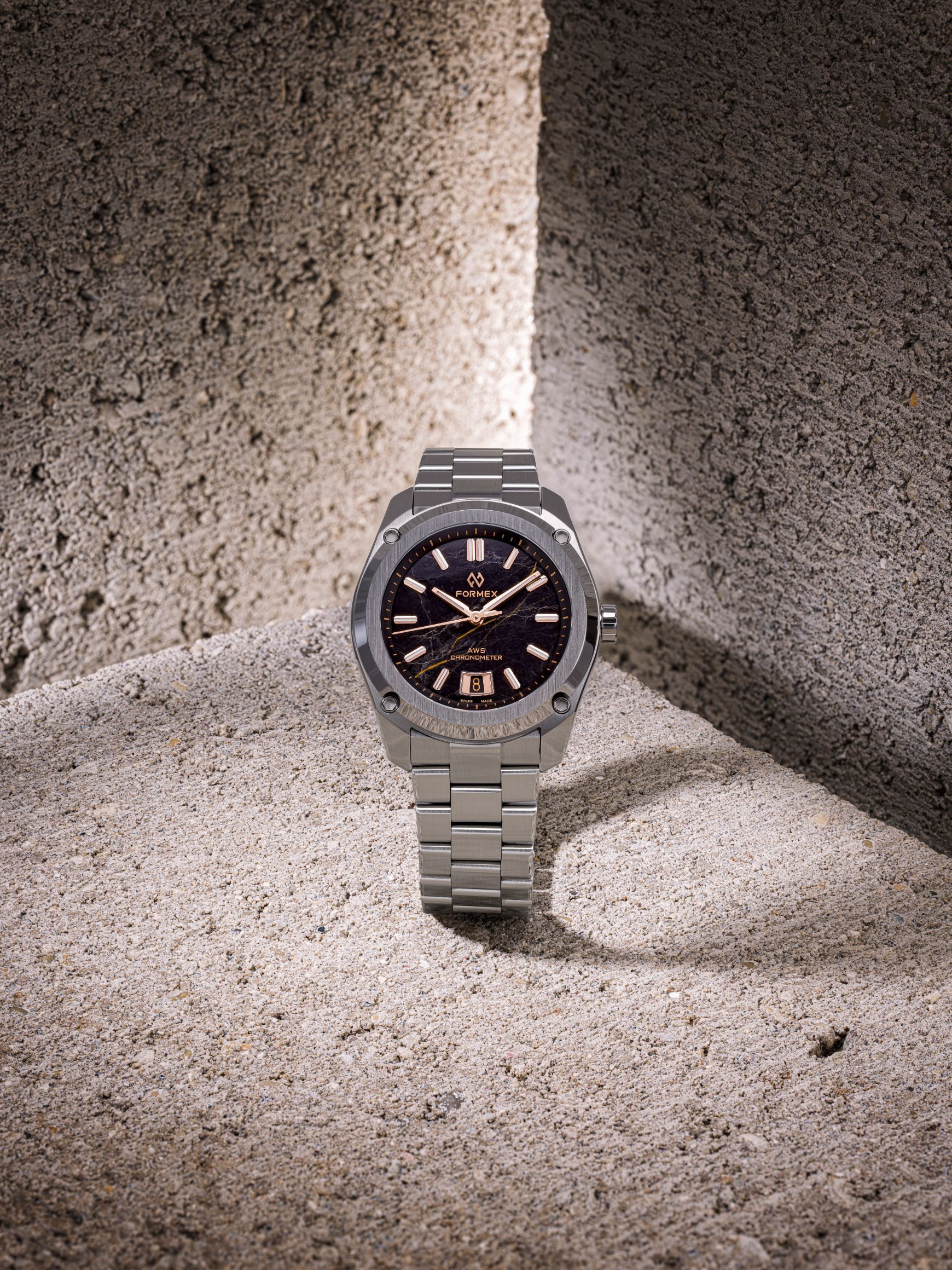 About the Atlanta Watch Society
The Atlanta Watch Society is one of the fastest growing watch groups in the United States. From a basement meetup with five collectors, to a full club house and brand sponsored meetups in the first 12 months, the Atlanta Watch Society is a community of collectors from all walks of life coming together for one common cause, for the love of horology. You can find AWS on Instagram @atlantawatchsociety and become a member at https://www.atlwatchsociety.com/ .
About Formex Swiss Made Watches
Formex, established in 1999 and based in Biel/Bienne Switzerland, is a family-owned-and-operated independent watch manufacturer at the intersection of breakthrough engineering and unique design. The owner's deep roots and ties to high-end watch component manufacturing explain the innovative features and use of materials that provide Formex watches with unparalleled functionality, comfort, and durability. Formex offer all-inclusive pricing including taxes & duties for most countries, a free return policy and a 3-year international warranty. Their collection can be discovered at http://www.formexwatch.com/ .