Heavy on features – ultra-light on the wrist
The new Carbon/Ceramic Essence Leggera Chronometer collection
We are proud to introduce the next evolution of the Formex Essence – the Essence Leggera Chronometer. Crafted from lightweight carbon and ceramic, the Essence Leggera is light in weight, but heavy in technical features. The Leggera Chronometer is available in three new dial versions – Forged Carbon, Cool Grey and Electric Blue.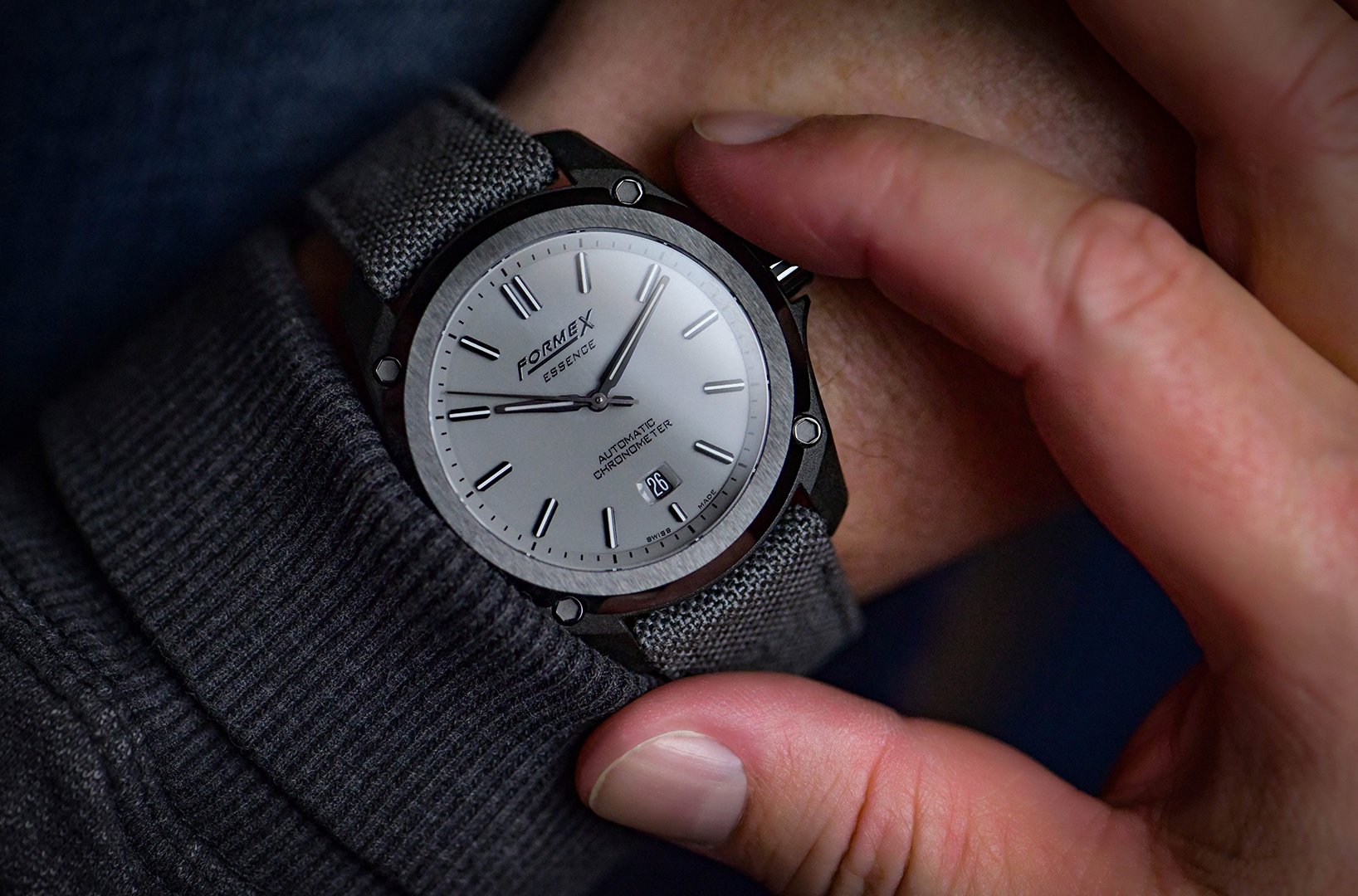 Formex Essence Automatic Chronometer Cool Grey. Find out more here
Making Our Case –
The case of a watch is perhaps the most important, yet typically least explored element of the typical wristwatch. Great pains are taken over size, shape and finish, yet the rest of it is oftentimes an afterthought. What if a watch case could do more than simply hold a movement, dial and hands? At Formex, we know it can. The result? The case of the Essence Leggera Chronometer is one of the lightest, most comfortable watch cases available.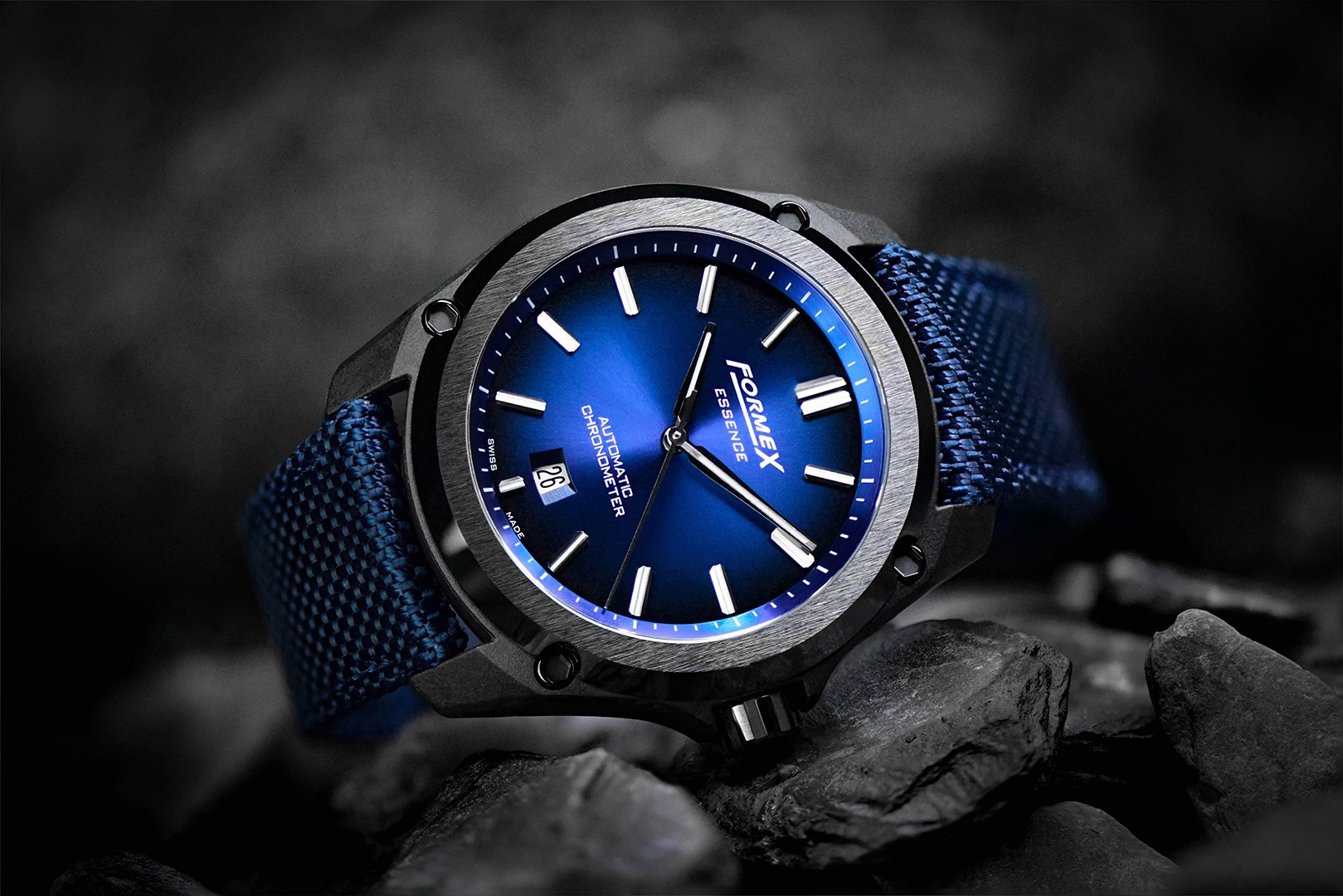 Formex Essence Automatic Chronometer Electric Blue. Find out more here
Not A Lightweight -
With a case that comes in under 50g (1.76 oz), the Essence Leggera is light, but thanks to the materials utilized, it is also strong. In addition to reducing the weight by about 40%, the proprietary carbon fiber composite used in the Leggera's case gives the watch an extremely smooth feel. Manufacturing with carbon is highly complex and requires several steps when fused with polymers. We have used the same material for our completely re-engineered folding clasp, which features a unique fine-adjustment system that perfectly adapts to the wrist's ever-changing size due to heat and humidity.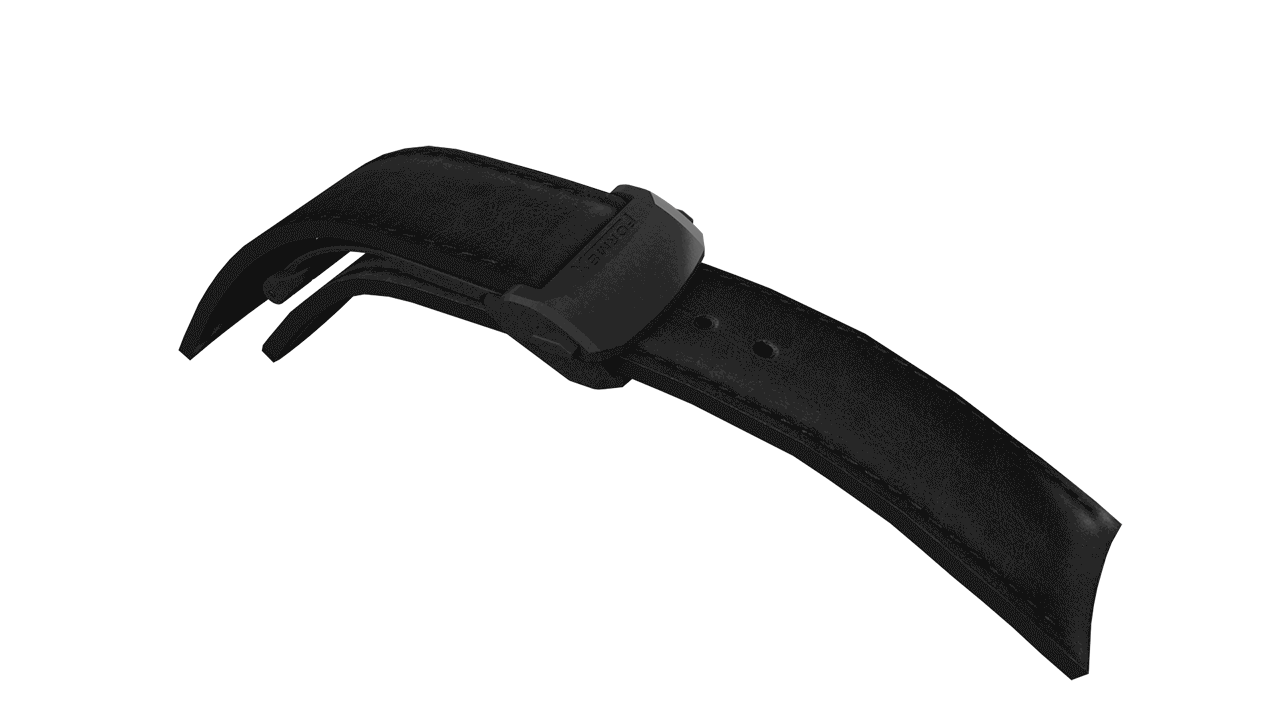 Protecting What's Inside -
The case of a watch protects the movement, but it has a few vulnerable points – the crown and bezel, for example. With a hardness that surpasses that of any traditional metal used in traditional watchmaking, Formex utilizes Zirconium oxide ceramics on both the bezel and the crown, making them virtually scratchproof. Four hexagon screws connect the upper and lower case, and should you remove them, you would get a closer look at Formex's patented 4-fold Case Suspension System, which adapts to the wrist's movement. More than just improve wearing comfort, this innovation acts as a shock absorber for the watch, cushioning and mitigating any potential jolts or shocks to the movement.

Formex Essence Automatic Chronometer Forged Carbon. Find out more here
Keeping Time -
Under the hood beats a Chronometer grade, COSC certified Swiss Made STP1-11 automatic movement ensuring both accuracy and reliability.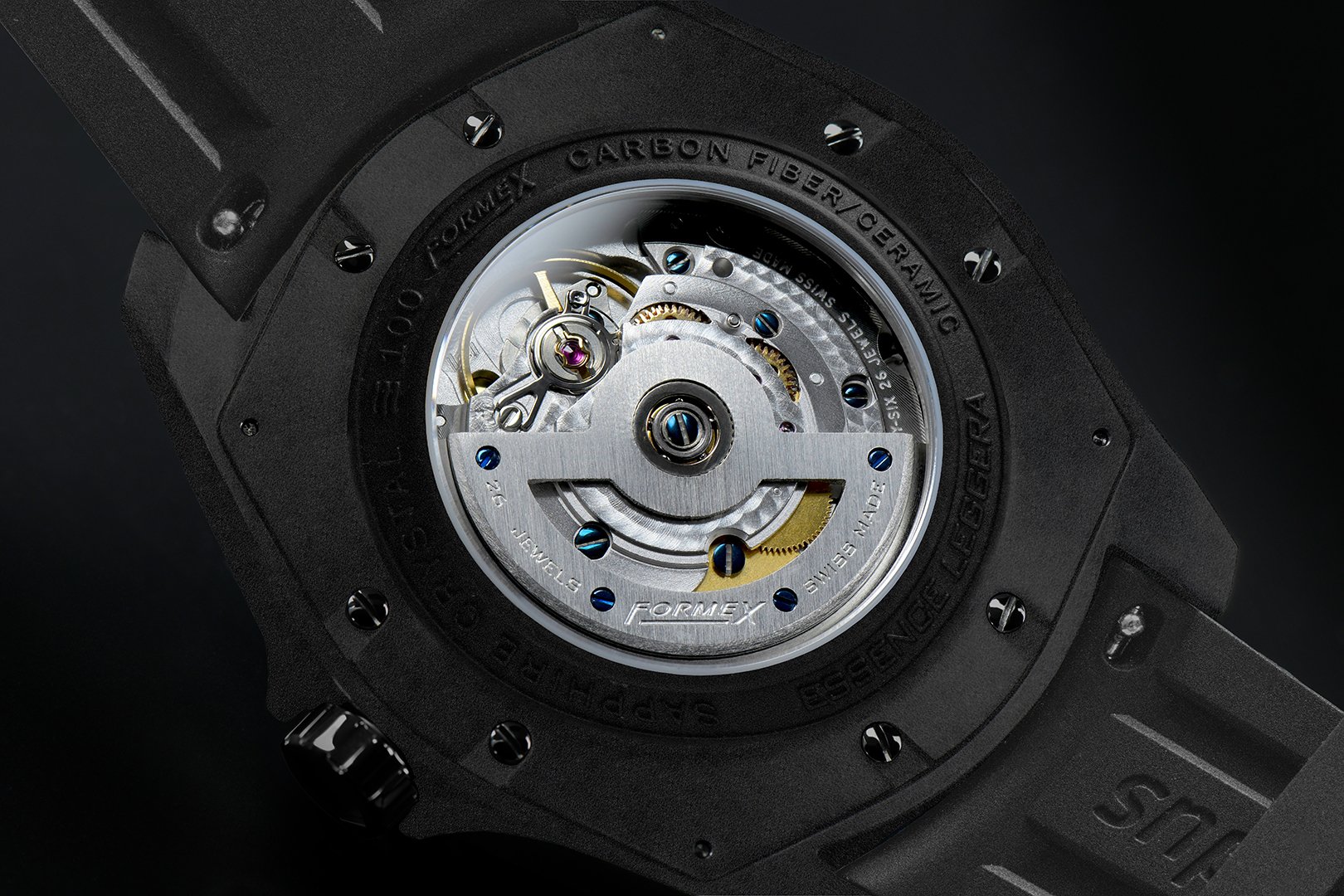 Clearly Legible -
Formex has chosen BGW9-Super LumiNova to ensure perfect legibility both day and night. The three Formex Essence Leggera models are now available. The Cool Grey and Electric Blue models are priced at $1,680. The Forged Carbon dial, made of an extremely thinly cut Forged Carbon blade, whereas every single dial has a unique pattern) is slightly more expensive at $1,880 US. Prices include international express courier shipping, all taxes and duties, a 30-day return & refund policy and a 3-year warranty.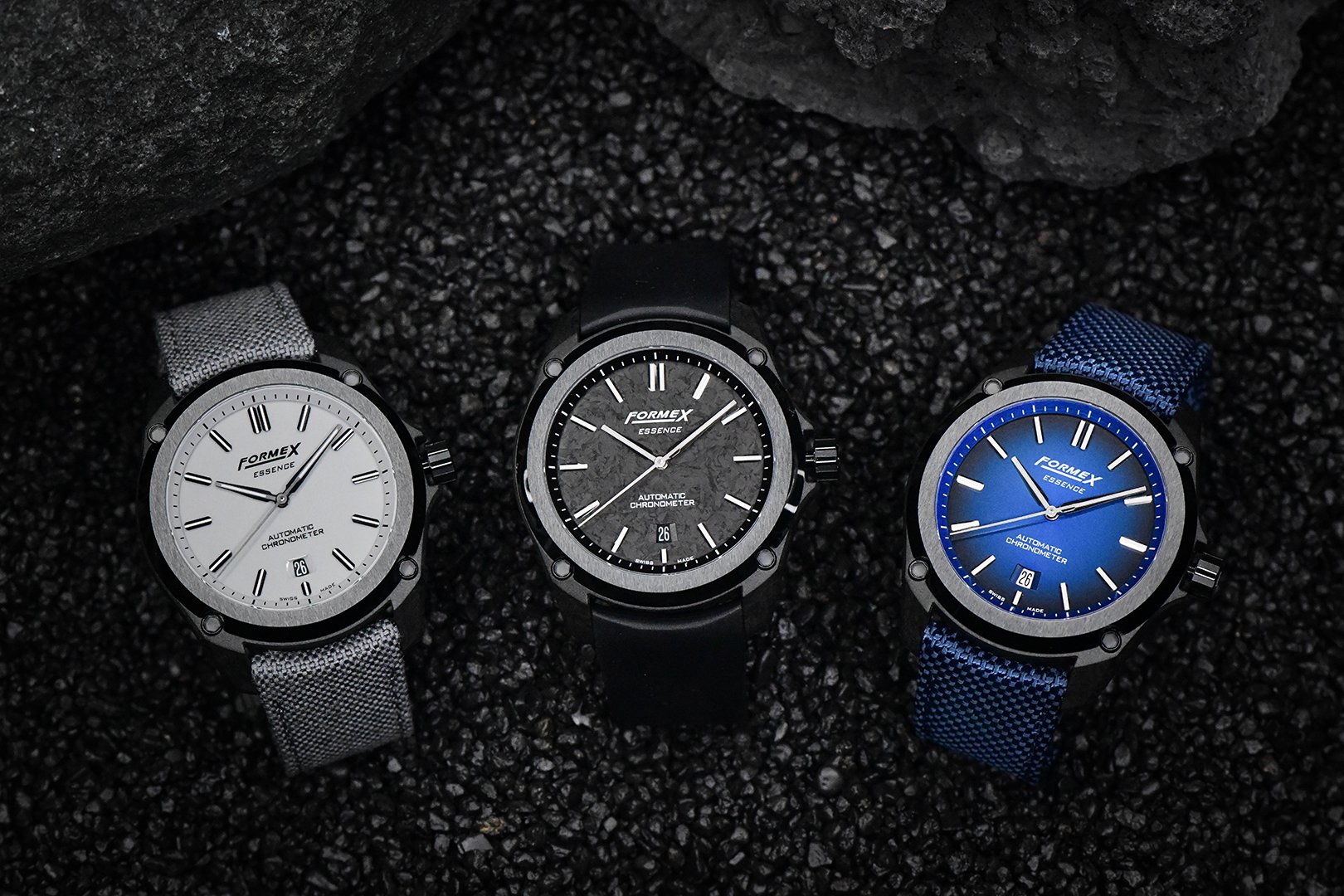 Discover the Essence LEGGERA collection now at https://formexwatch.com/collections/essence-leggera and choose between the Forged Carbon, Electric Blue or Cool Grey dial version.