Hello, fellow watch enthusiasts! I am excited to recount our exhilarating journey to the Windup Watch Fair in Chicago, where we showcased our timepieces and shared our passion for horology with the world.
Our expedition began with Markus, our Marketing Director based in California, flying to our manufacture in Biel, Switzerland. The timing of his visit couldn't have been better, as Switzerland was basking in the glory of a full-fledged summer. Personally, I took advantage of the warm weather by firing up my smoker and relishing long evenings discussing projects with Markus after a productive day at work.
Markus had multiple reasons for his trip, aside from discussing Formex's strategies in person. He also had the pleasure of visiting his friends and family in Switzerland. Additionally, we were eagerly anticipating the arrival of 30 watch enthusiasts to our manufacture. The driving force behind this visit was Harry Liebling, a watch live streamer and one of our most passionate Formex supporters hailing from Austria.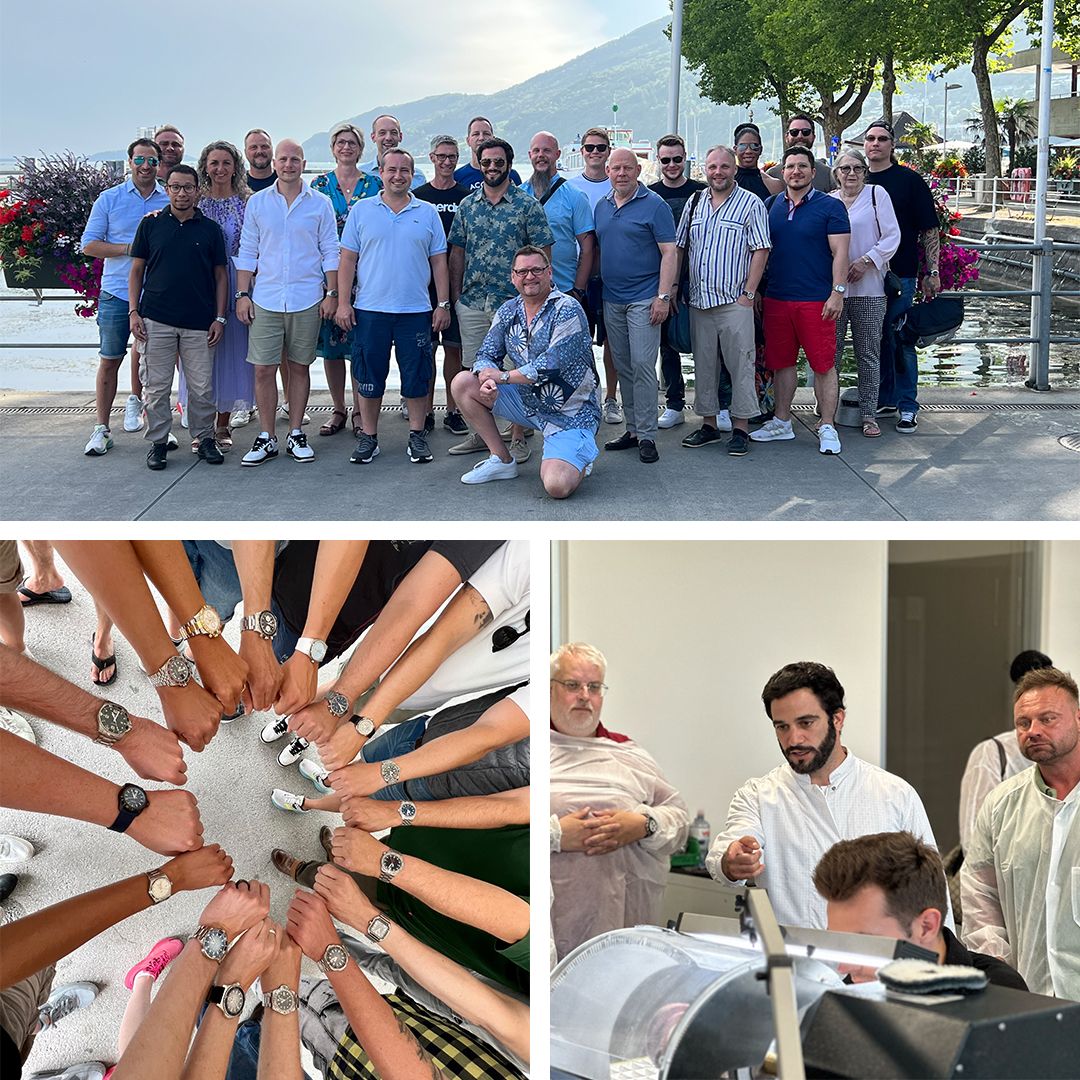 On a splendid Friday, July 7th, watch enthusiasts from Switzerland, Germany, and Austria assembled at our HQ in Biel/Bienne. To kickstart the day, we embarked on a one-hour bus ride to our dial manufacture nestled in the picturesque Jura mountains. This region boasts a profound connection with Swiss watchmaking, with numerous small suppliers and prestigious brands like Chopard, Zenith, Longines, Ulysses Nardin, and Blancpain calling it home. At one point in history, a staggering 80% of the Jura mountain workforce was involved in the watch industry, making it a hub of experience and expertise in manufacturing.
At Cadranor, our dial manufacture, the group was fortunate to have my uncle, the CEO, guide them through the mesmerizing process of dial creation – from raw bases to exquisite, finished products. For those curious to learn more, Tourbillon-Watch has an excellent video detailing the intricate dial-making process. The fact that all Formex dials are crafted here, alongside renowned brands, left our enthusiast group in awe.
The day continued at the Formex HQ in Biel/Bienne, where I personally conducted a tour of our atelier, showroom, and the entire production facilities of Dexel – my father's company built over the past four decades. The sheer amount of craftsmanship that goes into manufacturing even the tiniest watch components, be it dials, clasps, or cases, fascinated our guests. To conclude the day on a high note, we treated the group to a quintessential Swiss Cheese Fondue during a cruise on Lake Biel, accompanied by the finest Swiss wine all while seeing the vineyards the wine came from, lining the coast of the lake.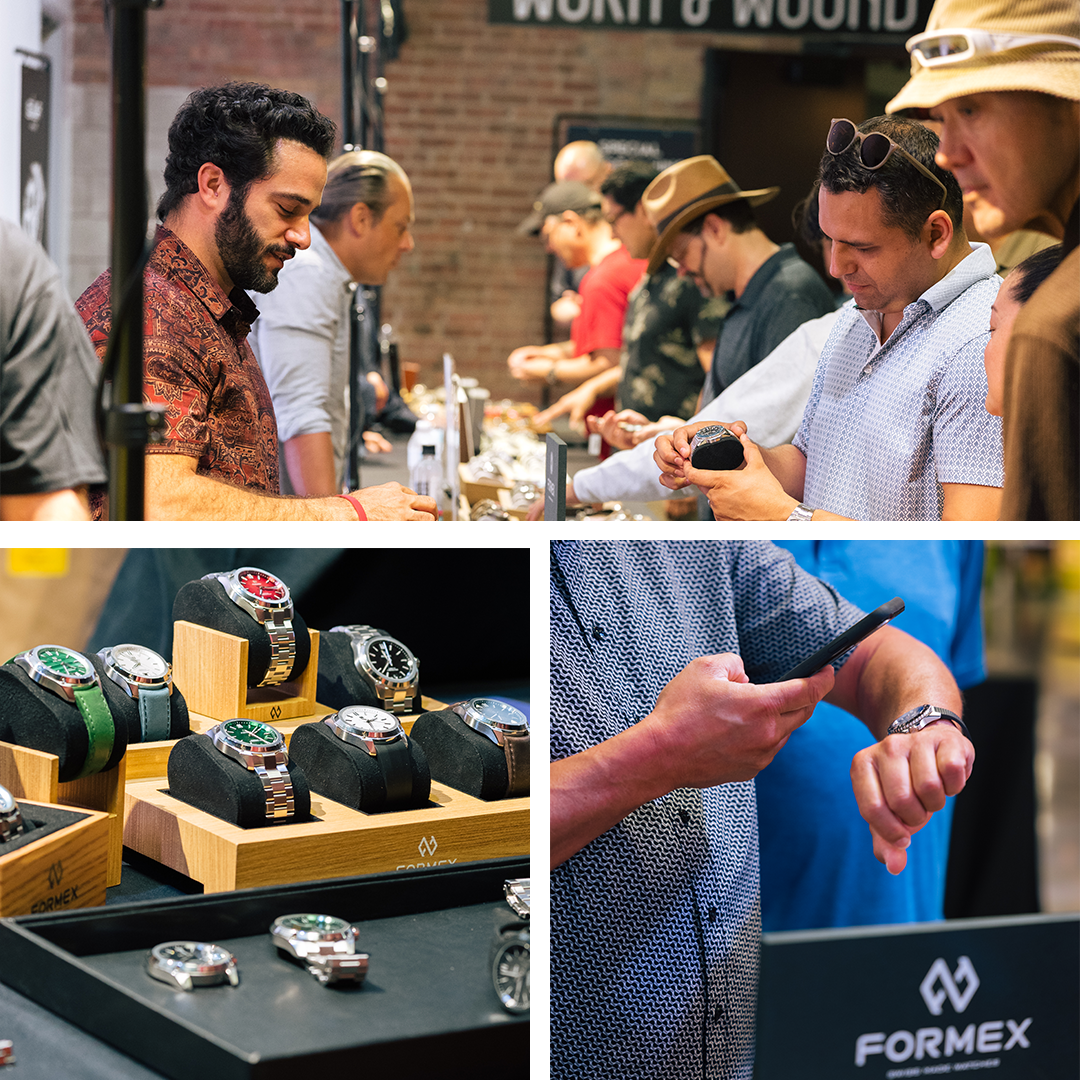 One week later, Markus and I found ourselves in Chicago, USA, eagerly ready to participate in the highly anticipated Windup Watch Fair. However, just hours after our arrival, our phones and all TV stations rang with emergency warnings of an approaching tornado. Observing the nonchalant demeanor of other guests in the restaurant, we decided to calmly enjoy our dinner. Fortunately, we discovered the tornado had missed downtown Chicago by a mere 30 miles. After our tempestuous welcome, it was time to shine at the Windup show.
At Windup, we proudly unveiled our latest creation – the Essence Splash collection. This series featured vibrant dials designed for the Essence 39 mm steel and Essence 43 mm carbon/ceramic Leggera watches. The collection received glowing coverage in prestigious publications like Ablogtowatch, Worn&Wound, and Monochrome, along with a podcast feature on Scottish Watches. Visitors at the fair were eager to explore our new collection, and Windup provided us with a fantastic opportunity to interact with like-minded independent brands, engage with watch enthusiasts, and showcase our features in person.
While our case suspension system is well-known, it was the fine adjustment systems in our clasps and the removable bezels of our Reef models that garnered the most excitement during the fair. The overwhelming sales and positive response made Windup a resounding success for Formex. Our delightful culinary experience, including a memorable dinner at our friend's restaurant Gene and Georgetti, added to the charm of the trip.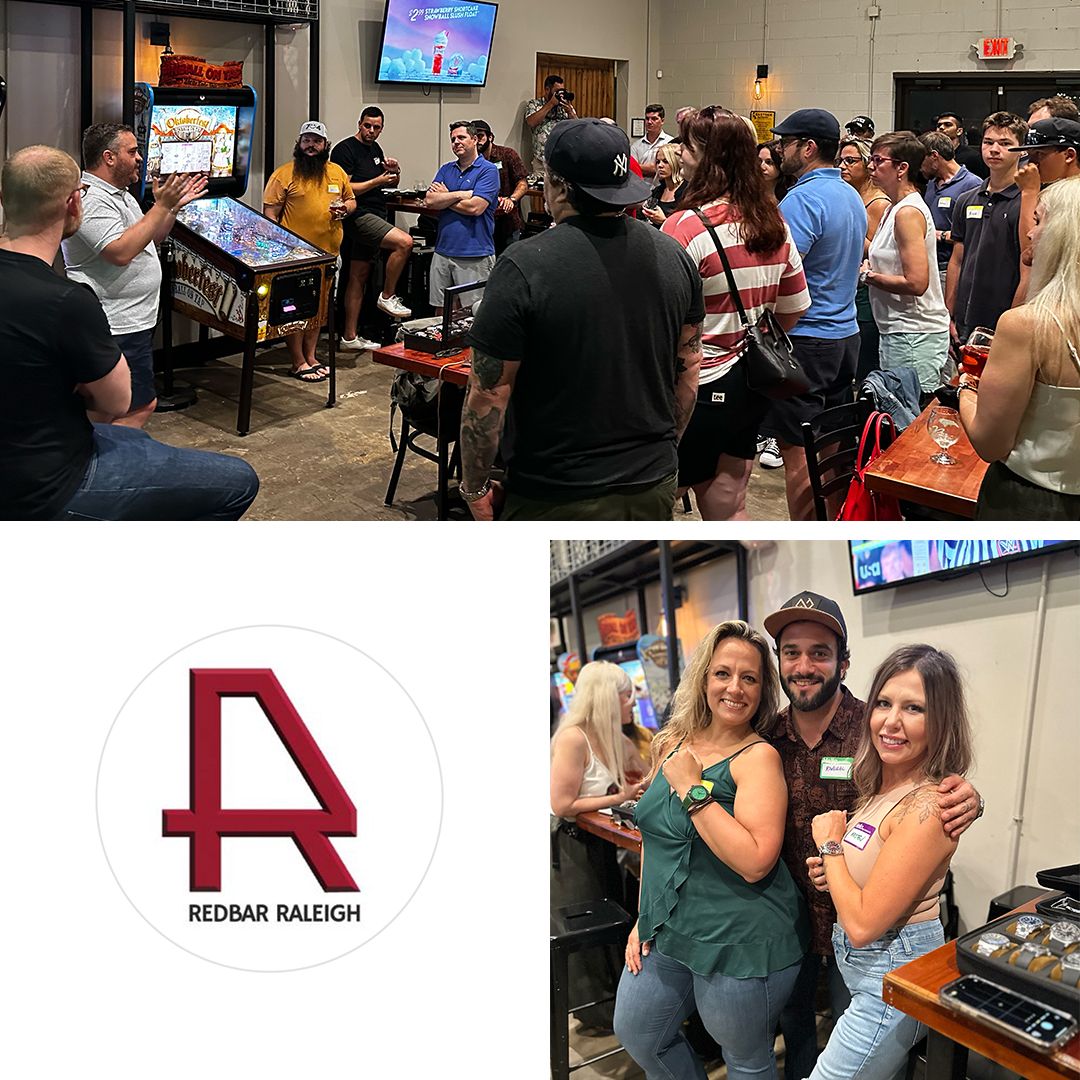 Our commitment to making the most of our time on these overseas trips led us to extend our stay and visit local watch groups in the area, similar to our experiences in San Francisco in previous years. Over the course of four days, we had the pleasure of meeting four different watch clubs across three different states.
In Raleigh, North Carolina, we joined the RedBar group's monthly meetup, where we were warmly welcomed by Troy (@TheGrumpyCollector), the group's co-leader, and a proud owner of an Essence Malachite. We had a delightful dinner at his favorite Indian restaurant before heading to a packed room of watch enthusiasts at the local brewery @bondbrosbeer. We also had the pleasure to meet Kelly and Kristen of @on.her.own.time and @vinylsanddials. We hope to see you all again soon.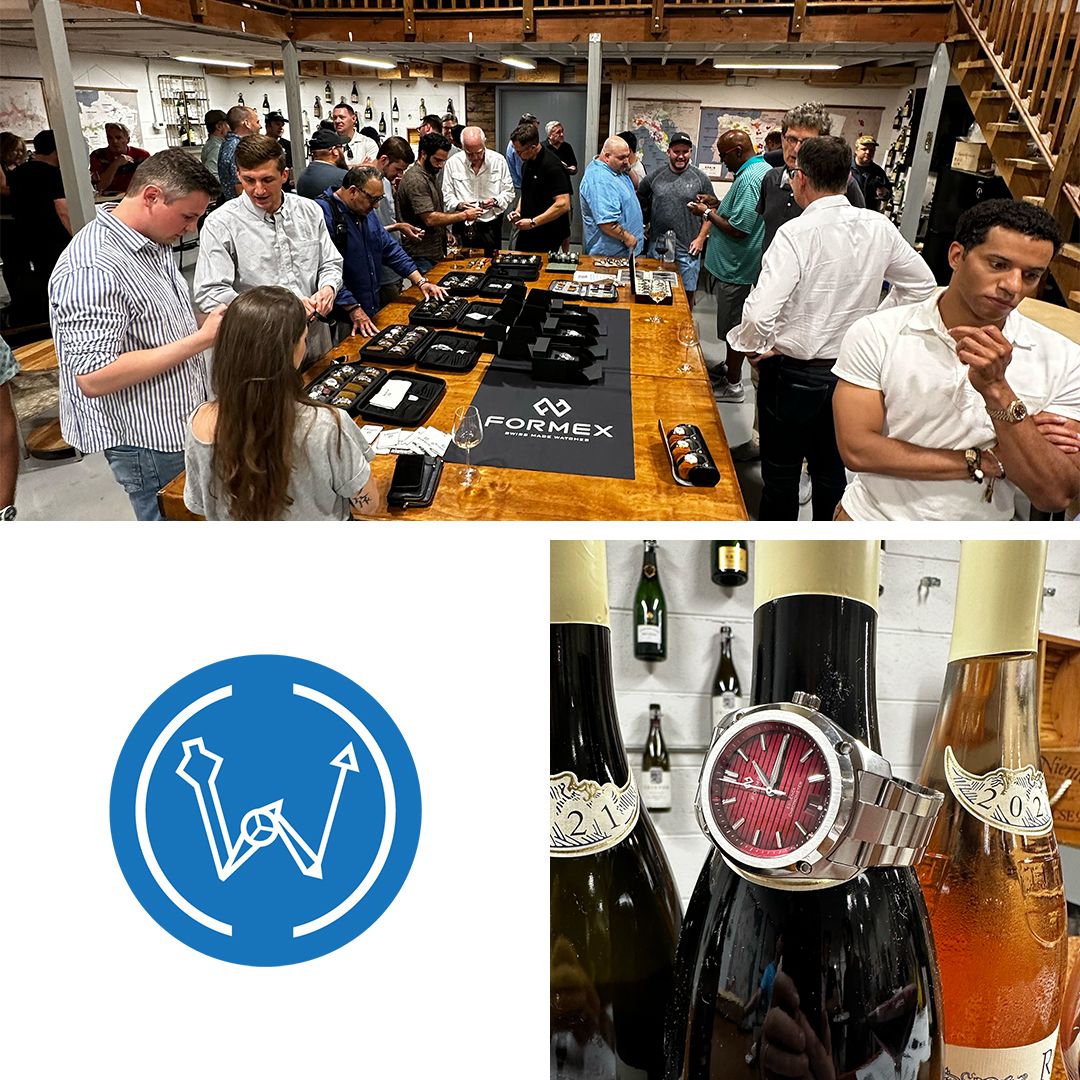 Our next stop, Charlotte, proved to be a memorable evening with the Carolinas Watch Club at the @corkvault, a local wine storage facility where wine geeks can gather and meet. Combining the two passions, we had our friend Dylan of @ddiwine send us some great Swiss wine - a Chasselas, a Gamay and a Gamaret by his uncle Julien Ramu of Domaine de Centaure. The latter, the Gamaret, was our inspiration for the red dial of the Essence 39 mm - we've added a hand-applied color gradient resembling the wine's hue in a glass. Thank you, Nate, for hosting and for introducing us to your wonderful group. It was great meeting @Jeep99dad , @noahwilliamsstyle and Greg, the inventor of the Coravin wine-preservation system, in person and spend a great evening with you all.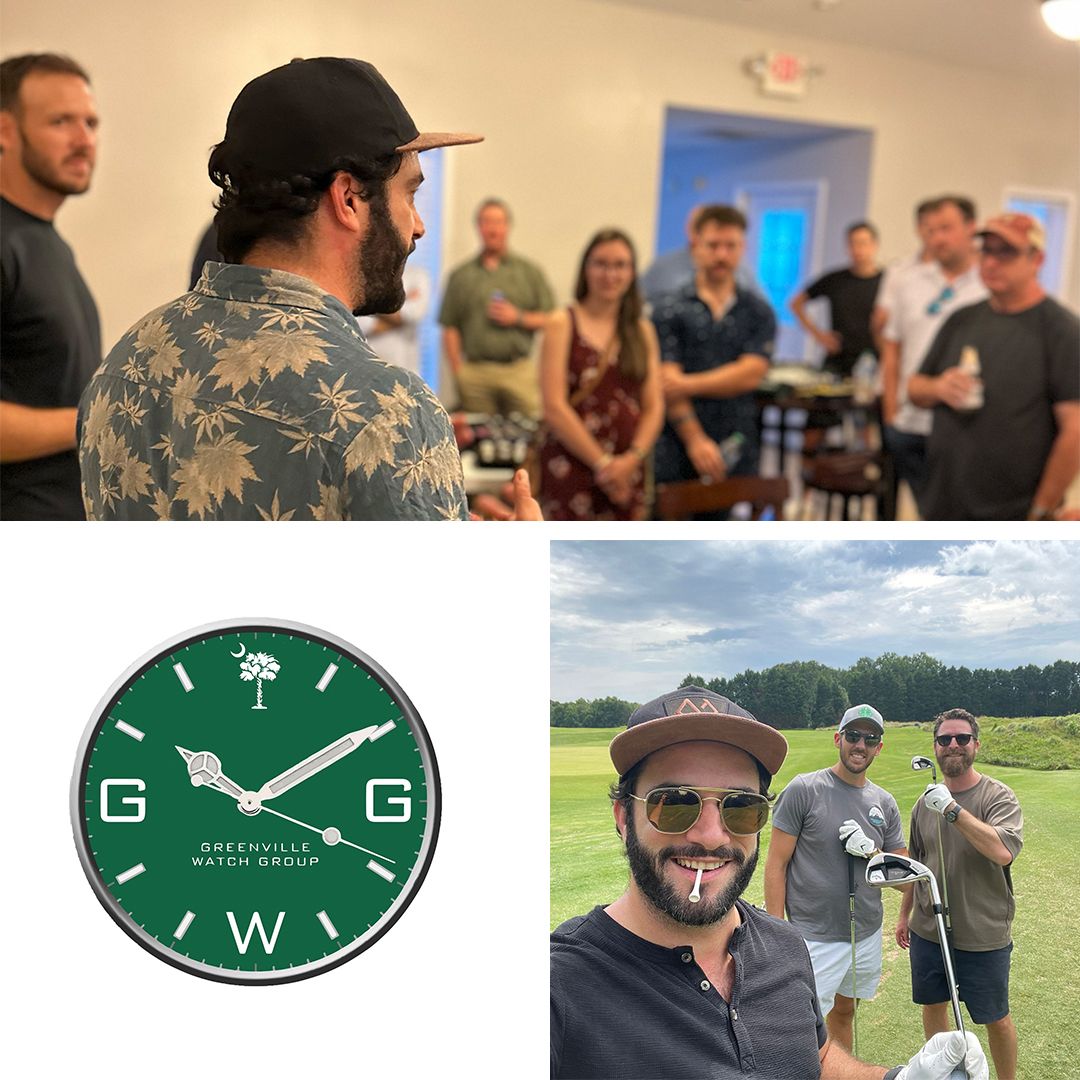 Moving south, we enjoyed brisket, pork chop and beer with Brandon of @greenvillewatchgroup . Joking about taking the afternoon off, we ended up playing a round of golf which helped digest our heavy lunch. While I rather enjoy the riskier types of sports I started to enjoy a game of golf, especially since no minimum handicap is needed in the US to hit the course. Also, playing in Greenville with a perceived humidity of 90% did feel like an extreme sport after all. After a cold shower, we met the club members for pizza and watches and enjoyed a relaxed evening with the Greenville crew.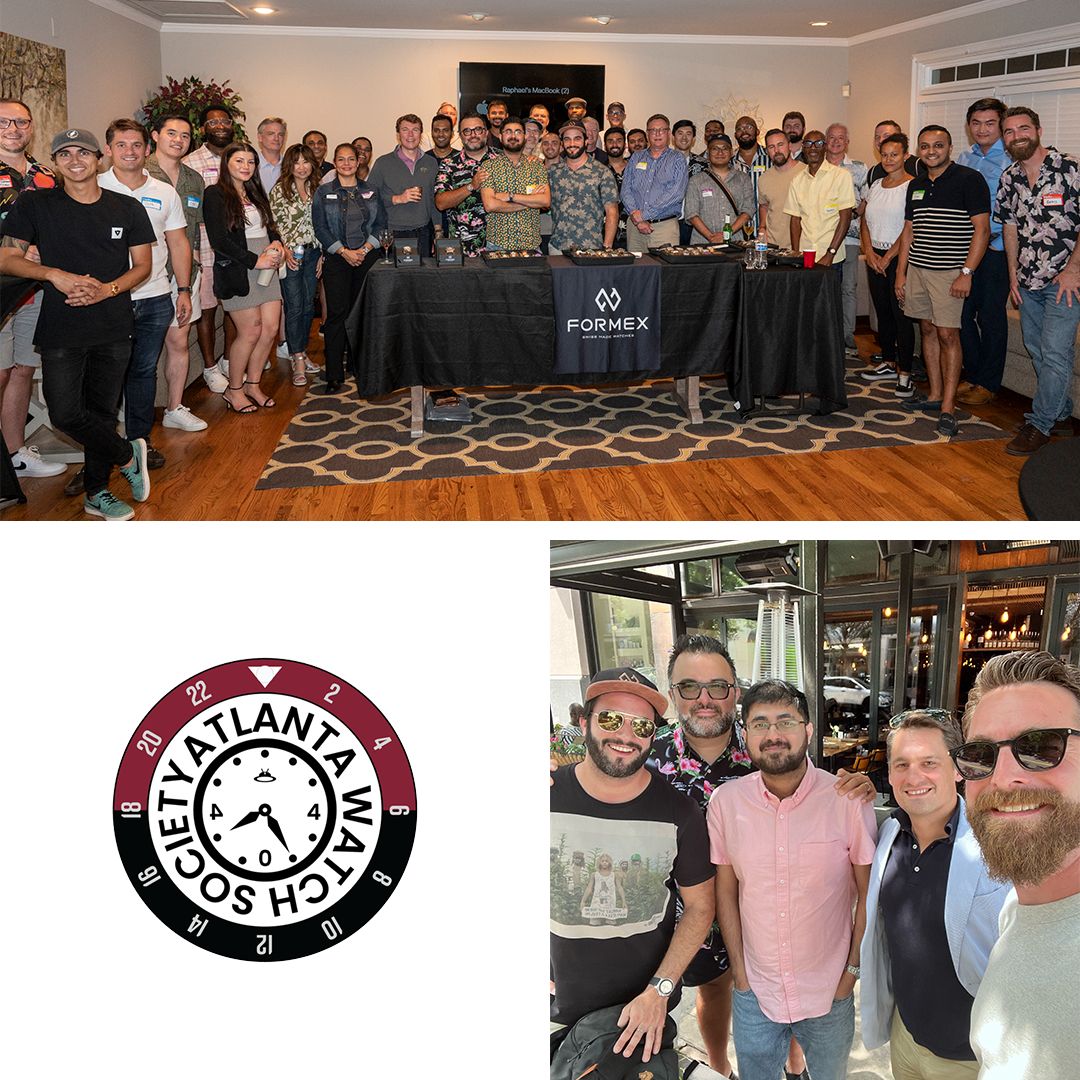 Our last destination was Atlanta, where we visited the @atlantawatchsociety . Carrying the final prototype of the group's very first chapter watch, we revealed it to members during the meetup. While I can't divulge too much here, I can assure you that the watch's limited 50 pieces were met with an enthusiastic response and quickly sold out. Collaborating with the group's founding members, Giancarlo and Dib, has been an absolute pleasure, and we are thrilled with the result. The good news is that a small, limited batch will be available to the public later this year, with early access for members of the Formex Watch Club.
To all the watch enthusiasts out there, we can't wait to catch up with you soon. In the meantime, feel free to explore our collection online and reach out to us via email or live chat. Don't forget to join the Formex Watch Club on Facebook and subscribe to our Newsletter for exclusive updates and opportunities.
Thank you all, and until we meet again.
Raphael Granito
CEO, Formex Watch SA