We just recently wrapped up a road trip in the United States, where we traveled up and down the California coast and even made it all the way out to Texas to share our latest new releases and hang out with some good friends. In addition to presenting our new models at Windup Watch Fair San Francisco and several different meetups along the way, we also spent some time just hanging out with other members of this remarkable community and sharing our collective passion for watches.
After years of travel bans and various restrictions, it was wonderful to spend a few weeks on the road in America, and here are some of the highlights from Formex's most recent visit to the United States.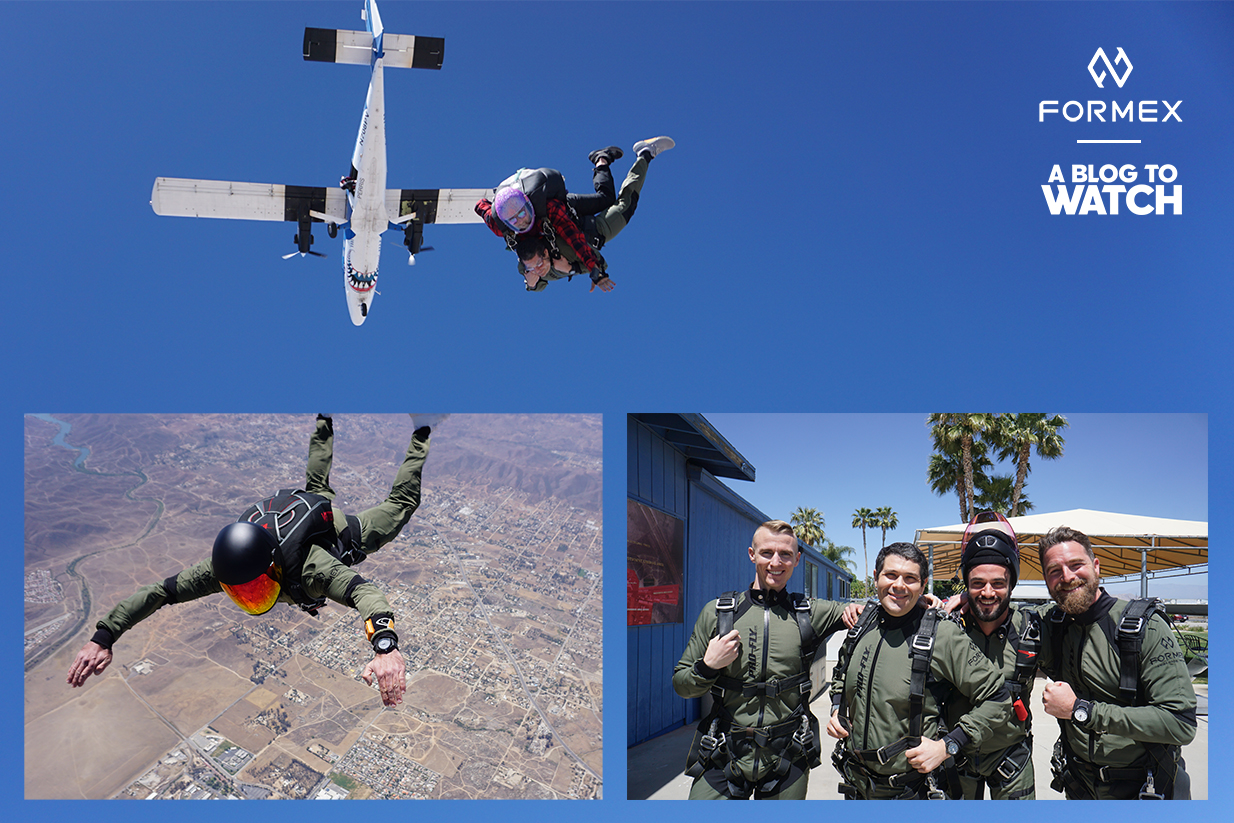 Ablogtowatch.com Skydive Experience 2022. Right image from left: Ryan H., Ariel Adam, Raphael Granito, Markus Walchli
Sky-Diving with aBlogtoWatch
The first order of business when we got to California was to do something that should have taken place two years ago but was rescheduled due to the pandemic. I'm an avid skydiver and Swiss skydiving legend Marc Hauser is one of Formex's brand ambassadors. Back in December of 2019, we partnered with aBlogtoWatch on their annual experience giveaway contest, where the winner would receive a Formex Essence Leggera Automatic Chronometer watch and an all-expenses paid trip to California to go skydiving with us and aBlogtoWatch Founder Ariel Adams.
Coincidentally, the same year that we are finally able to travel again also happens to be the year that Formex is unveiling the 41mm version of the ultra-lightweight Essence Leggera, and so it seemed like a perfect time to finally go skydiving. That Friday, we met up with the winner of the giveaway contest Ryan H. from Florida, and after indoor skydiving in a vertical wind tunnel, we flew up in a plane to 12,500 feet and jumped out - not a bad way to kick off our U.S. road trip!
After skydiving, we spent some time with Ariel and the aBlogtoWatch crew, where they got a chance to check out the new Formex Essence Leggera collection and photograph them for an upcoming article that you can expect to find on the aBlogtoWatch website in the near future.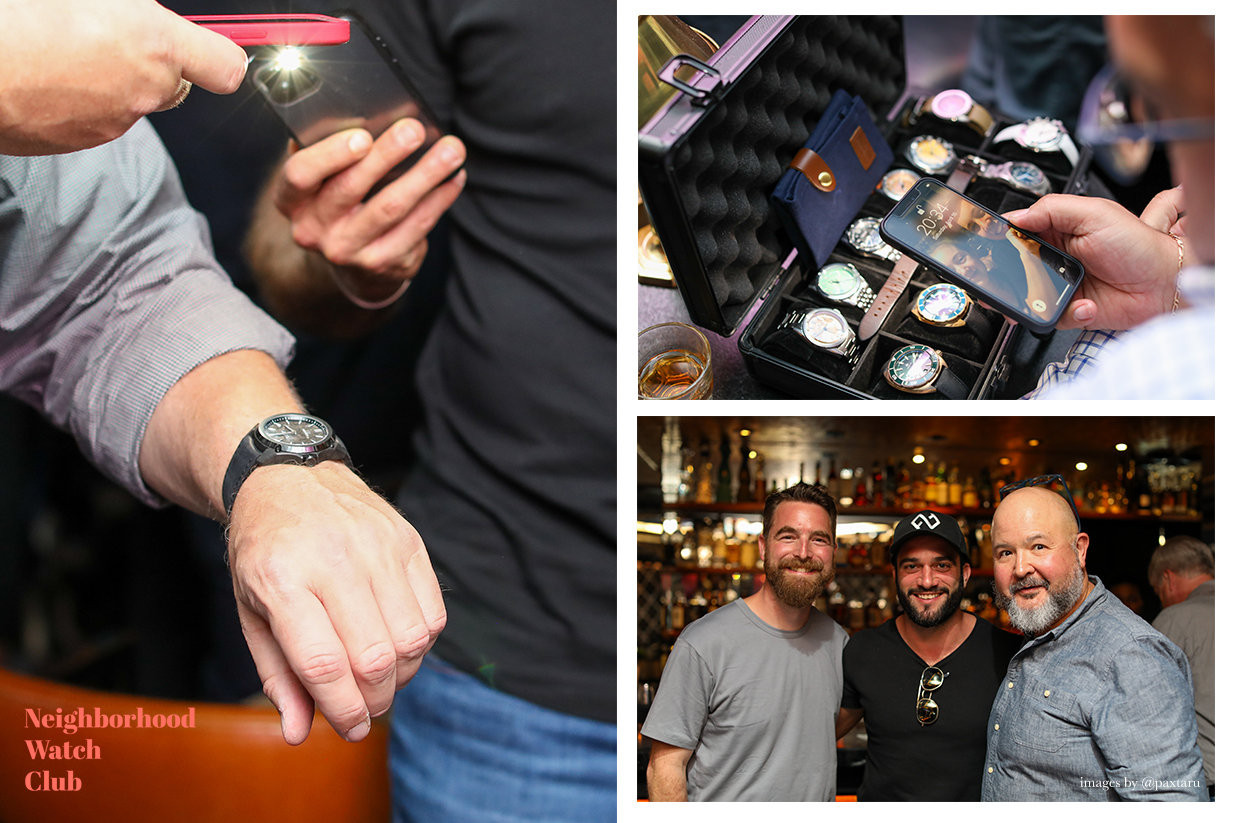 Neighborhood Watch Club event with Nodus and Formex watches. Image right from left: Markus Walchli, Raphael Granito, Nick S.
Neighborhood Watch Club Meetup with Nodus in Downtown Los Angeles
The very next evening, we co-hosted a get-together with the local meetup group Neighborhood Watch Club and the guys from Nodus Watches in Downtown Los Angeles. Just like us, Nodus was going to be exhibiting at Windup Watch Fair in San Francisco the following weekend, and when Jarrod and Nick from Neighborhood Watch Club reached out to see if we wanted to all host a meetup, we thought it would be a great idea.
The event itself took place at The Queensbury, which is a hidden cocktail bar located in the heart of Downtown LA. In addition to having a raffle for the guests, watches from both Nodus and Formex were on display and those attending got a sneak peak at the brand-new 41mm and updated 43mm carbon fiber and ceramic Formex Essence Leggera watches that would be formally unveiled the following weekend in San Francisco.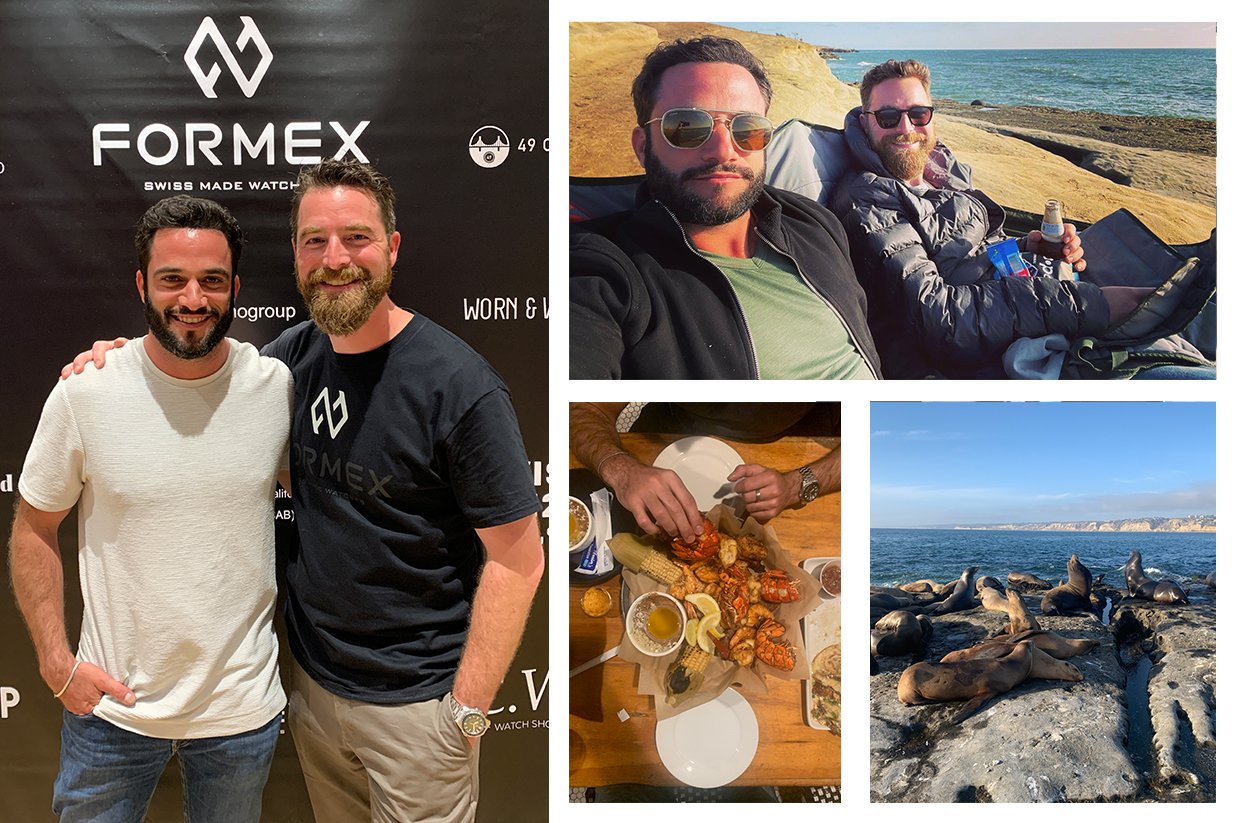 Raphael Granito and Markus Walchli
Surfing in San Diego and Dinner with Nick Shabazz
After hanging out in Los Angeles, we headed down the coast to the beach-side city of San Diego. I actually spent a year at UC San Diego during a study abroad program while attending university, so it was great to be able to return to a city where I have so many fond memories. Additionally, I absolutely love surfing but am not able to do it nearly as often as I'd like since Switzerland is a landlocked country. My best friend and business partner at Formex Markus organized some time for us to surf while in San Diego, and it was amazing to be able to get out there again and enjoy the beautiful Southern California coast.
While in San Diego, we also met up with YouTube reviewer Nick Shabazz to have dinner and talk about some of our latest new releases. Nick is a fan of Formex and has several of our watches that he purchased for himself, including a Reef, an Essence ThirtyNine, and a titanium field watch. Nick has reviewed our timepieces in the past for his Nick Shabazz YouTube Channel, so it was great to be able to catch up with him, have some good food, and talk about watches.
OC Chrono Group Meetup in Newport Beach
The day after we left San Diego, we drove up the coast for a meetup with OC Chrono Group. While Chrono Group also has chapters in San Diego, Arizona, and Salt Lake City, it was decided that the meetup would be hosted at the Newport Beach Tennis Club in Orange County. With that in mind, not only did several of the San Diego chapter members make the drive to hang out with us, but some people from the neighboring get-together at the local Omega boutique also showed up and brought their newly-purchased watches.
The pool-side event featured food, drinks, and several of the attending guests also brought their own watch collections for others to enjoy and try on their wrists. Additionally, just like the meetup in Los Angeles, those attending the OC Chrono Group get-together received a sneak-peak at the new Essence Leggera watches and had the chance to participate in a raffle to win a variety of different Formex promotional items, along with Swiss wine and chocolates.
WindUp Watch Fair San Francisco 2022 Recap, Video by Worn&Wound
Windup Watch Fair San Francisco
Windup San Francisco marked the official launch of our new Formex Essence Leggera FortyOne watches, which received a lot of attention and great feedback from the guests over the course of the weekend. The larger new event space was certainly welcome, as this year's edition of Windup San Francisco was easily the biggest yet and featured significantly more exhibiting brands and attendees than in the past.
One happy coincidence about the timing of this year's Windup San Francisco event was that Markus's birthday was the Thursday before the start of the show and I was able to celebrate it with him. In addition to working together at Formex, we also have been great friends for many years, and while I currently reside in Switzerland, Markus now lives thousands of miles away in the San Francisco area. Given all of the travel restrictions and lockdowns throughout the pandemic, it has been years since I've been able to spend his birthday with him, and it was wonderful to get a chance to have some drinks and make up for lost time.
During Windup SF, I also had the chance to sit down with the guys from Worn and Wound to record an episode of their podcast. As the organizers of the entire Windup Watch Fair platform, Worn and Wound is one of the industry's biggest advocates of independent watch brands, and events like Windup are often the best way for collectors and enthusiasts to get hands-on experience with watches that they aren't likely to encounter anywhere else. While it was certainly a busy weekend for us, we had a great time at Windup San Francisco and enjoyed being able to catch up with old industry friends and meet new people.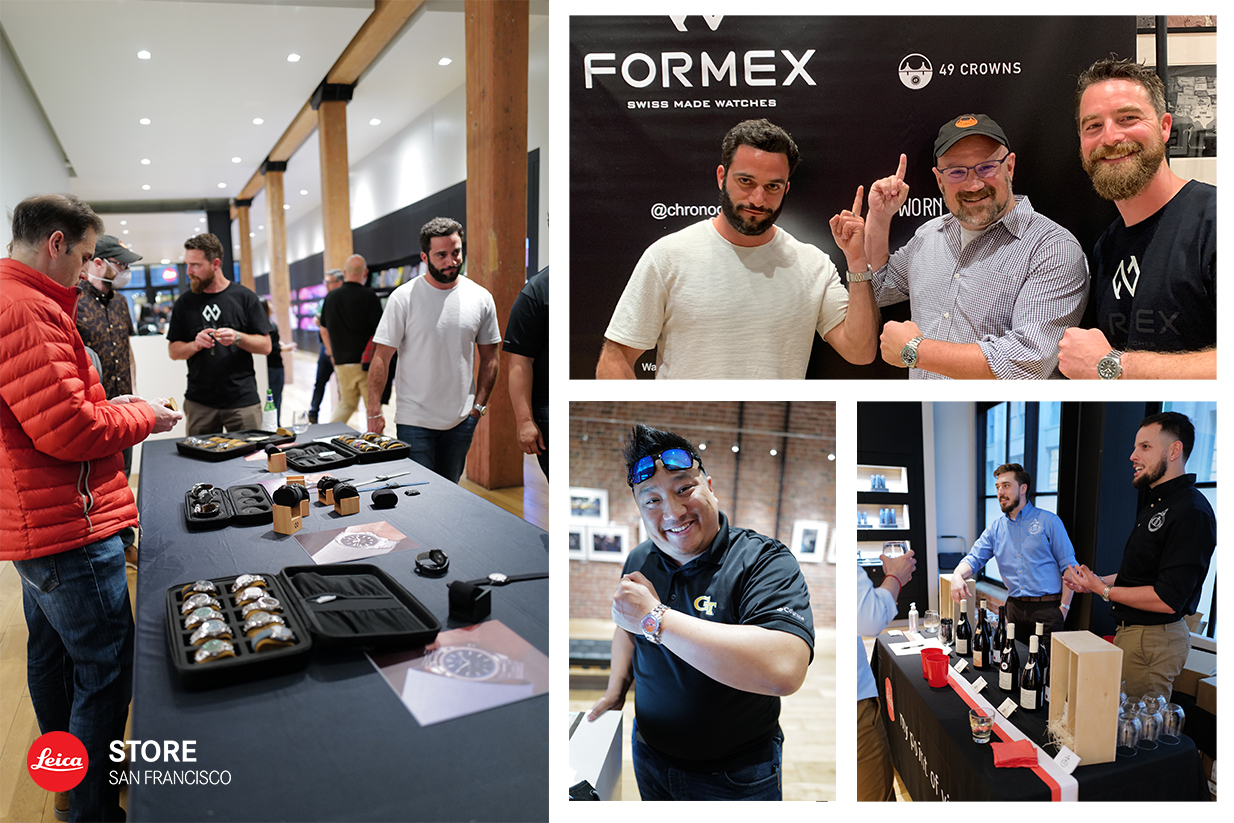 Formex Event with 49 Crowns at Leica Store SF. Image top right from left: Raphael Granito, Adam (49 Crowns), Markus Walchli. Image center: Dave (49 Crowns). Image bottom right: Brandon & Dylan, Domain Dardagny.
49 Crowns Meetup at The Leica Store in San Francisco
With so many watch enthusiasts gathered in one city for Windup, it only made sense to partner with some of the local meetup groups to host a couple of events in the evenings after the show. A few mutual friends put us in touch with Adam from 49 Crowns, who worked with us to help organize a wonderful evening at the Leica camera store in San Francisco. There is a strong overlap between the worlds of watches and photography, and in addition to making some of the very finest cameras and lenses, Leica also produces its own line of timepieces. Many individuals study and collect Leica cameras in a very similar manner that watch enthusiasts pursue their favorite brands, making the Leica store the perfect venue for a night filled with drinks, appetizers, photography, and watches.
The turnout was excellent that evening and it was the single largest get-together we hosted during our trip, with approximately 85 people attending the event. Additionally, Swiss wine importers Domaine Dardagny Inc. were also present with us at the Leica store, conducting wine tastings for the guests and discussing the various ways that Swiss wines are unique. Lastly, just like other meetups from our recent tour, all of the latest Formex watches were on display, and there was also a raffle where attendees had the chance to win a variety of different promotional items, including watch rolls, hats, t-shirts, and bottles of Swiss wine.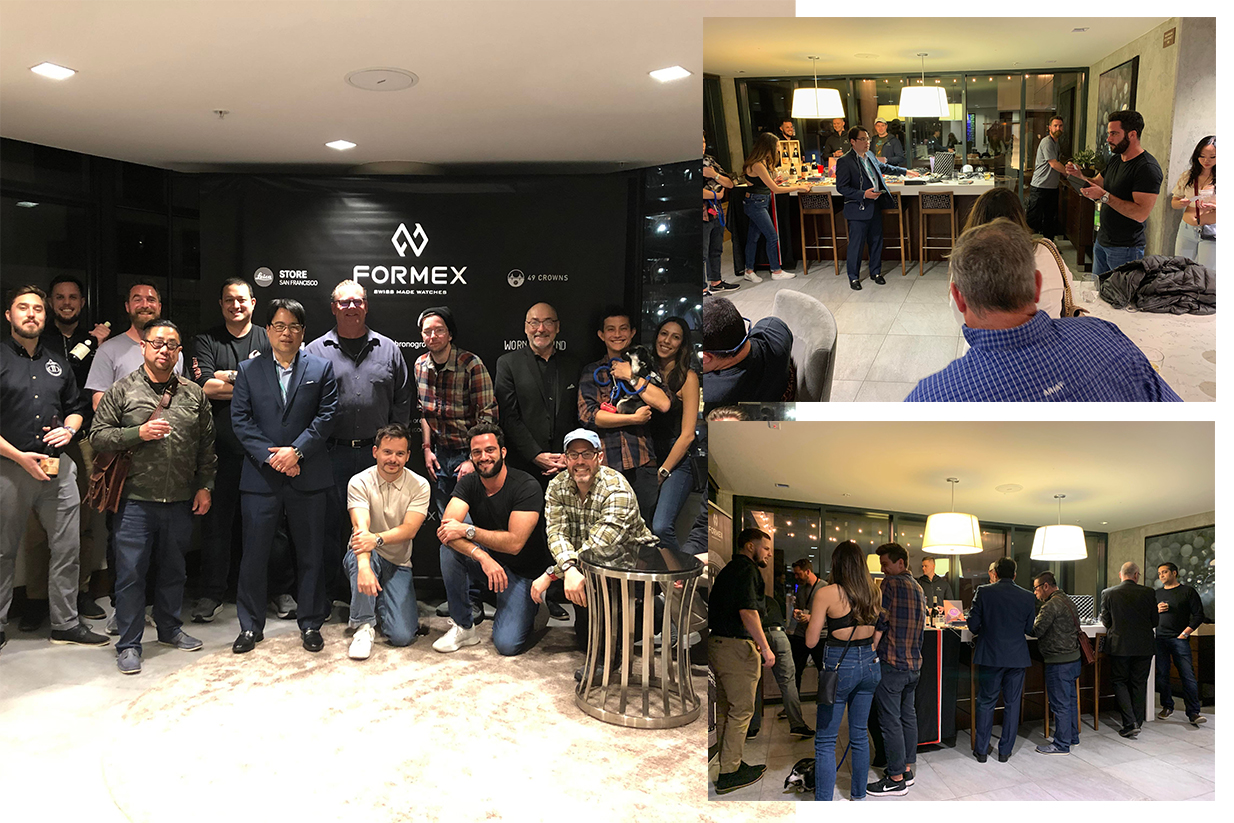 Formex Event with COCAB and friends
Watch Collectors Of California And Beyond (COCAB) Meetup
Once Windup Watch Fair had closed its doors on Saturday evening, it was time for another get-together with a local watch enthusiast group. This time, we partnered with Watch Collectors of California and Beyond (COCAB) to help host their very first in-person meetup, since the group had previously only existed online. The idea for a live get-together during the weekend of Windup started a couple of months ago, when our Marketing Director Markus was hiking by Folsom Lake with Travis, who organizes the COCAB online group. Fast forward a couple of months, and the first-ever COCAB meetup is in full swing, with collectors attending from several different cities all across the United States.
Just like all of our events, attending guests had the opportunity to check out all of the latest Formex models; however, in true watch meetup fashion, several of the COCAB members also brought their personal collections to share with the other guests. The guys from Domaine Dardagny once again joined us for the COCAB event, conducting wine tastings for the guests and educating them about Switzerland's winemaking industry. As always, it wouldn't be a proper Formex meetup without a raffle, and in addition to the usual assortment of watch rolls, hats, and t-shirts, there were also bottles of Swiss wine from Domaine Dardagny and even a few timepieces from Ugly Watch Company up for grabs that evening.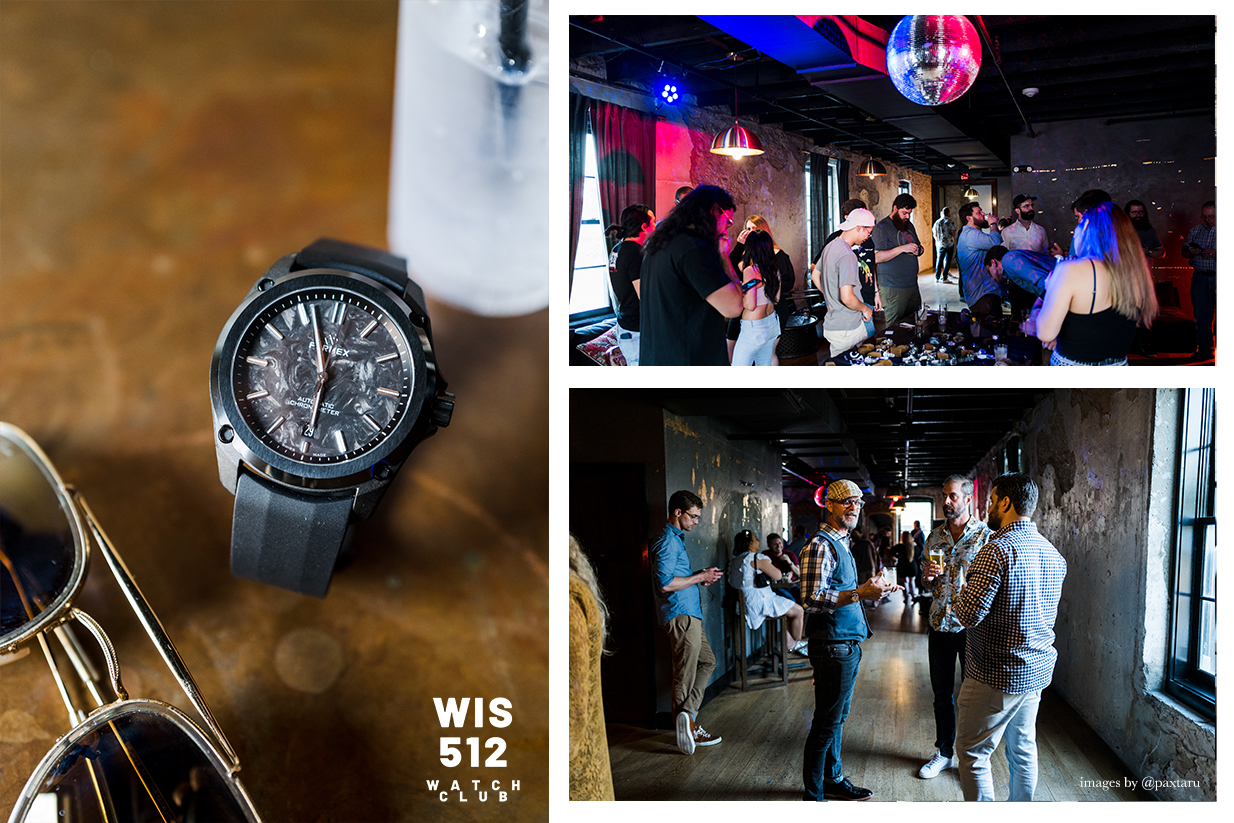 Formex Event with WIS.512 at Native Hostels in Austin TX. Images by @paxtaru (Thank you!)
WIS.512 Meetup and Watch Cringe Podcast Recording in Austin, Texas
The final stop on our U.S. road trip took us from the Northern California coast all the way to Austin, Texas to record an episode of the Watch Cringe podcast and hang out with the WIS.512 meetup group. We started the day in Austin with an authentic Texas-style lunch of pork chops and ribeye steaks before sitting down with Jay and Brendan from Watch Cringe. If you know anything about those guys, you know they enjoy having some good laughs, and the fun carried on into that evening's get-together with the WIS.512 group.
The event was held at the Native Hostel Romper Room and featured around 45 people for an evening of drinking and good times. Naturally, we had the latest Formex watches on-display for guests to check out, but rather than having a traditional raffle, we played a game of raffle beer-pong to determine who won the prizes. After a fun night with WIS.512, Markus and I hit the road the next morning to head back to San Francisco and from there, we said our goodbyes and I got on a return flight to Switzerland.
Next watch fairs and events in 2022
A big part of watch collecting is being able to interact with other members of this wonderful community to talk, laugh, and share our love for watches. At the end of the day, it is ultimately the people involved in this incredible hobby that breathe life into it and make it something truly special. We had a wonderful time on our recent United States road trip and look forward to having more fun and meeting fellow watch enthusiasts at the upcoming shows we will be attending later this year. We will be exhibiting at both Windup Chicago (July 15th - 17th) and Windup New York (October 21st - 23rd), in addition to WatchTime Düsseldorf (October 28th - 30th). If you are in the area or plan on attending any of these upcoming shows, please stop by our booth and introduce yourselves - we would love to meet you!
You can follow along with our latest adventures and get early-access on new releases and special offers on the private Facebook Group Formex Watch Club or by signing up to our email newsletter.
Raphael Granito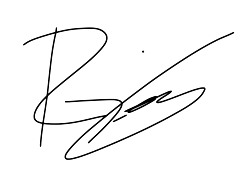 CEO Formex Watch SA