Dear Formex Club Member,
I'd like to take this opportunity at the end of the year to give you a little recap of 2021 and a short outlook on what next year is going to bring for Formex. I want to thank all of you for your continued support. It's a real joy for all of us working at Formex to see the brand evolve thanks to you and to all the hard work everybody is putting in.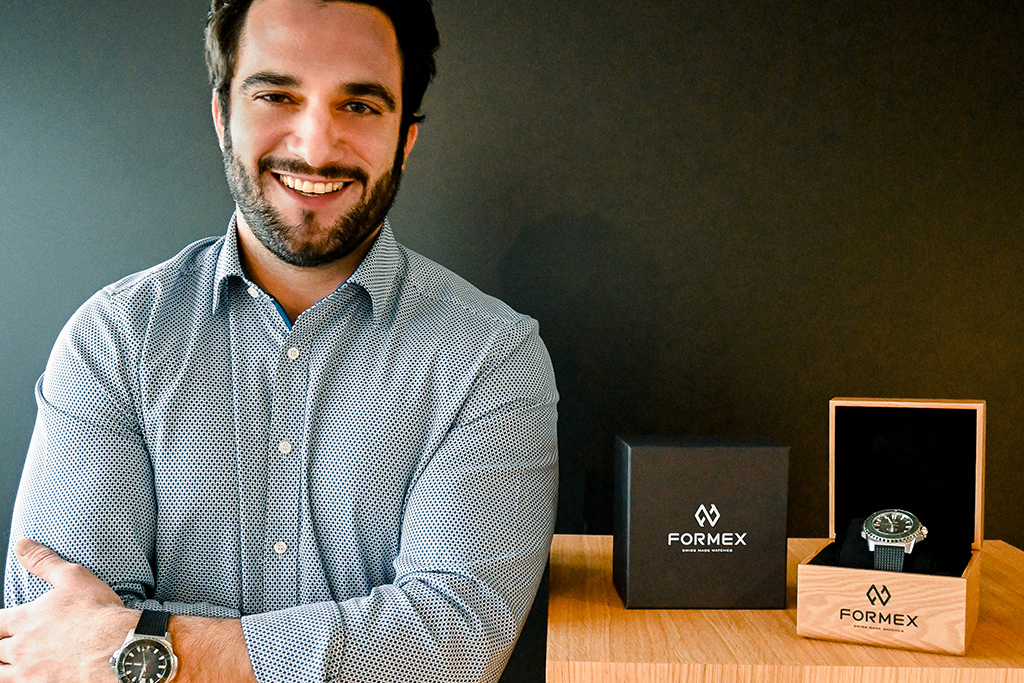 Raphael Granito, CEO Formex Watch SA
2021 has been the first year the new logo has been delivered on watches. The REEF is the first watch that sports the new branding and then all the other models slowly started to follow suit. The Essence 39mm has become our bestseller this year. The new white dial, launched in summer, remains really popular for both the Essence 39 and the updated 43 version to this day. The other big news this year was the launch of a 2.0 REEF model with the interchangeable bezel system that allows you to mix and match bezels without the use of any tools. Just a few weeks ago, we introduced a new Mother-of-Pearl version for the Essence 39, adding a very elegant touch to the collection. The most recent launch was our first collaboration piece with the Divers Watch Group, the largest watch related group on Facebook, for their 10-year anniversary. We did a 33 pieces limited edition of a lacquer polished orange dial REEF. There are only a couple of them left so if you're interested… now is the time to get it before they are all gone.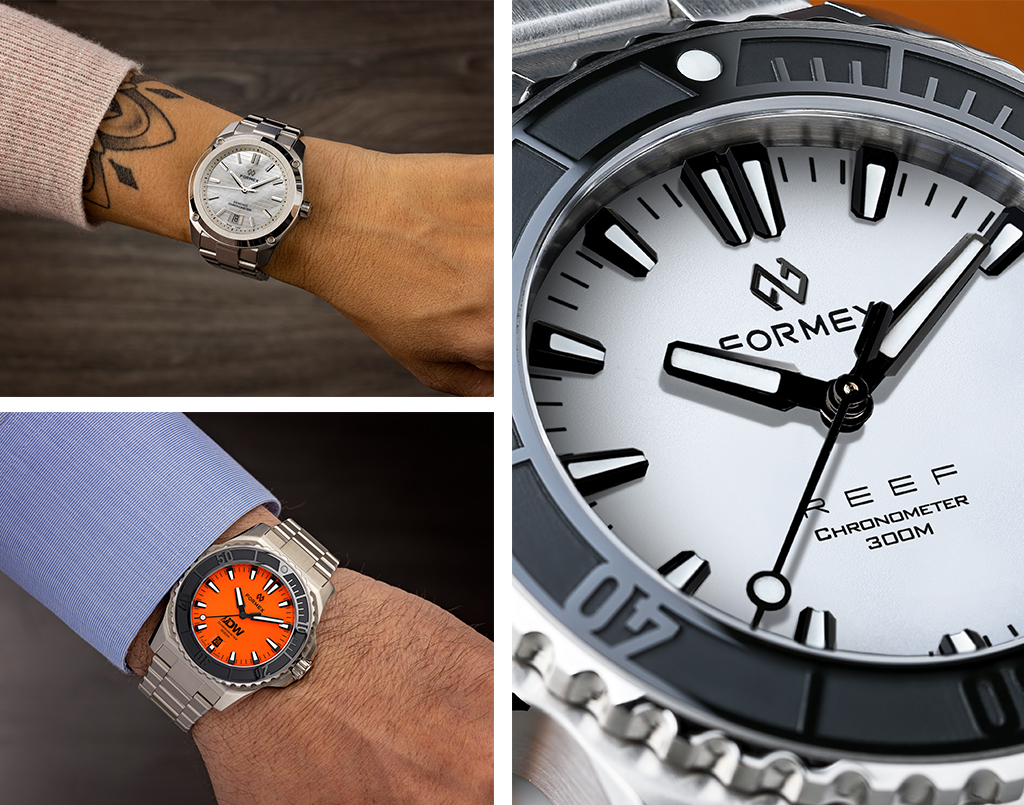 Top left: Essence 39mm Mother-of-Pearl. Bottom left: REEF Diver's Watches Limited Edition. Right: REEF 300M White dial
A highlight that wasn't model related this year was that we finally could exhibit at watch fairs again. Seeing how enthusiasts experience our watches in person and get their direct feedback is extremely valuable for us. It also allowed us to meet some of you guys in person. Markus, our Marketing Director, kicked it off with "Watches, Whiskey & Wine" in Maryland, followed by the popular "WindUp" show in New York, where Shreyas of https://www.beansandbezels.com/ joined us behind the booth. We had such a fun time and were incredibly thankful for his help, especially because the Formex booth was one of the busiest during the entire weekend.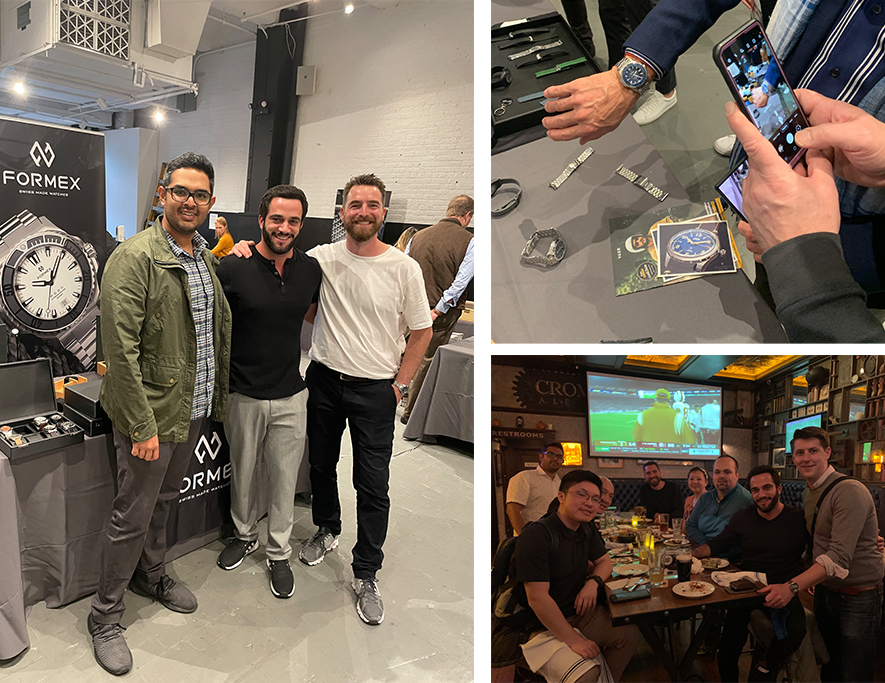 WindUp NYC 2021: Left: Shreyas (Beans&Bezel), Raphael (Formex CEO) & Markus (Formex CMO). Top right: Wrist shot. Bottom right: Formex Watch Club Event NYC
Thank you Kristina (our fantastic office manager) and Nadine of the https://www.youtube.com/c/Uhrenratgeber team for joining us a week later at WatchTime in Düsseldorf, Germany. We highly appreciate the incredible time, effort & pastries by Wilhelm who organized a meetup of https://uhrforum.de/ members right at our booth.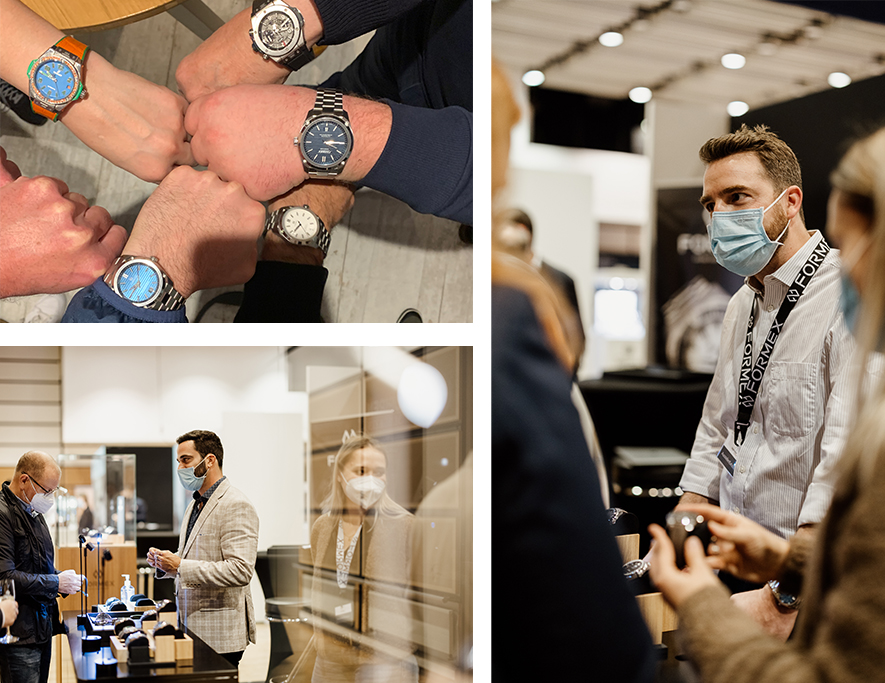 WatchTime Düsseldorf 2021: Top left: Event group shot. Bottom Left: Raphael (Formex CEO) & Kristina (Formex Office Manager). Right: Markus (Formex CMO)
We always try to organize a private Formex Watch Club event during exhibitions. Thank you all for spending a great time with us at our little get together in NYC, the very nice evening in Düsseldorf, and the event at an art gallery in Frankfurt. Our European tour was crowned by the https://www.youtube.com/c/Uhrenratgeber Event in Cologne and our first-ever popup store in Amsterdam. On this note I wanted to encourage members of any watch group out there to get in touch with us at info@formexwatch.com. If you would enjoy our company at one of your Watch Forum or Watch Club get-togethers, please let us know and we'll try to arrange it.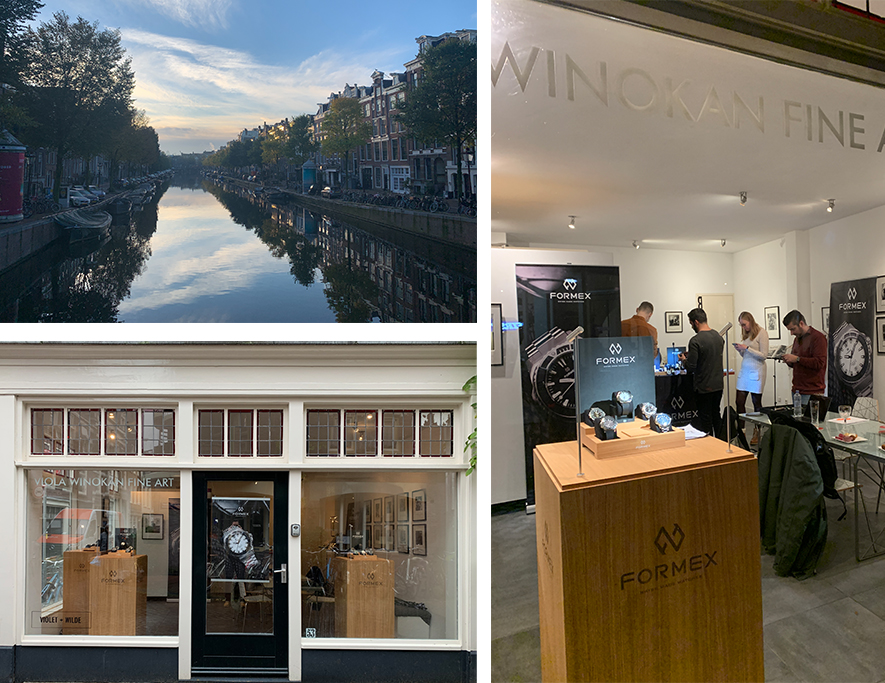 Amsterdam Formex Pop-Up store 2021
I'd also like to thank our existing and new retailer partners. We're extremely excited about adding Chronotheory in Japan, Russell Jewellers in Canada, Chronofactum in Germany, Watch Gecko in the UK and the Lawish Loft in Hong Kong to our trusted Formex distributors. Thank you all very much for helping to make our watches more visible and accessible to your communities and to support our hybrid distribution model. You can find out more about our trusted partners at https://formexwatch.com/pages/trusted-dealers/.
-Early 2022, a new entry-level- priced Automatic model that's going to be very tough and a bit lighter on the wallet
-Also, an updated Essence Leggera 43mm collection with the new branding and some new dial combinations
-Later, there's going to be some new complications coming out
-A new collection that reflects something I am personally extremely passionate about
In terms of our relationship to our customers, we're working on a loyalty program. We continue to calculate our prices in a way that our customers will get the best deal throughout the year, so we won't be able to offer discounts. However, we want to reward repeat buyers in a meaningful way. We are also working on a new version of our Augmented Reality Try-On and blockchain solutions. More about that soon.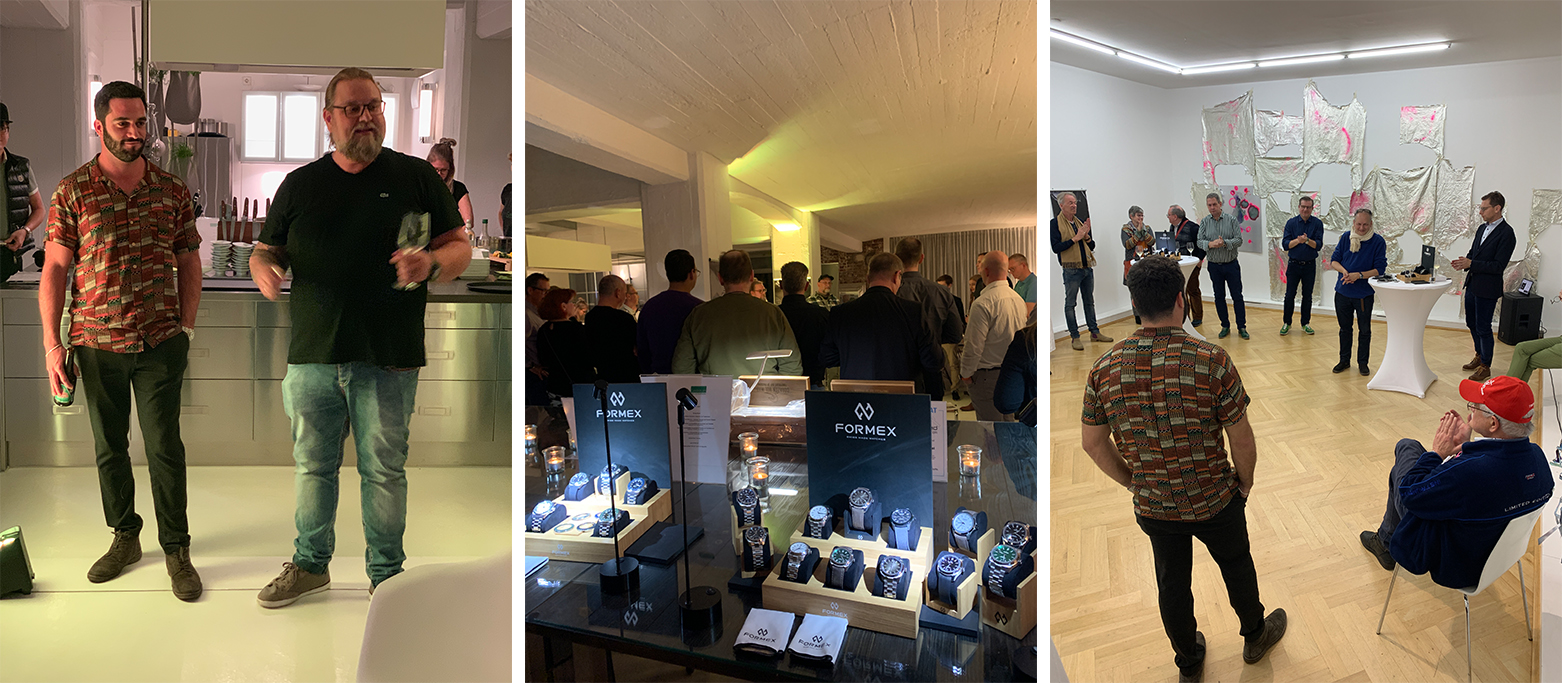 Left: Uhrenratgeber Event with Raphael (Formex CEO) & Marcus (Uhrenratgeber). Center: Uhrenratgeber Event. Right: Formex Watch Club Event Frankfurt
My last point is personally my most important goal; it is, while the company is growing, to keep that spirit of being close to our customer. I would like to hear your feedback, learn from it and improve our products based on the opinions of those who wear our watches every day. So please, keep the reviews coming, let us know what you like but also what you'd wish would be different, or better. We appreciate being interactive on different channels, but also in person during watch shows and private events which we'd love to expand in 2022.
Finally, THANK YOU for your continued support and active contribution to the brand. We do take your feedback seriously, which can be seen in the development of a smaller Essence model, or the interchangeable bezel system which is truly based on customer feedback. We truly are amazed and thankful for the passion with which you are standing behind Formex and building it up with us.
I wish all of you and your loved ones Happy Holidays and a great start into 2022, full of happiness, love and good health. Thank you very much again and see you next year. Happy Holidays.
Raphael Granito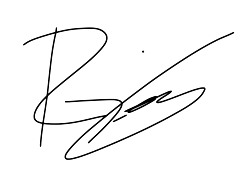 CEO Formex Watch Club